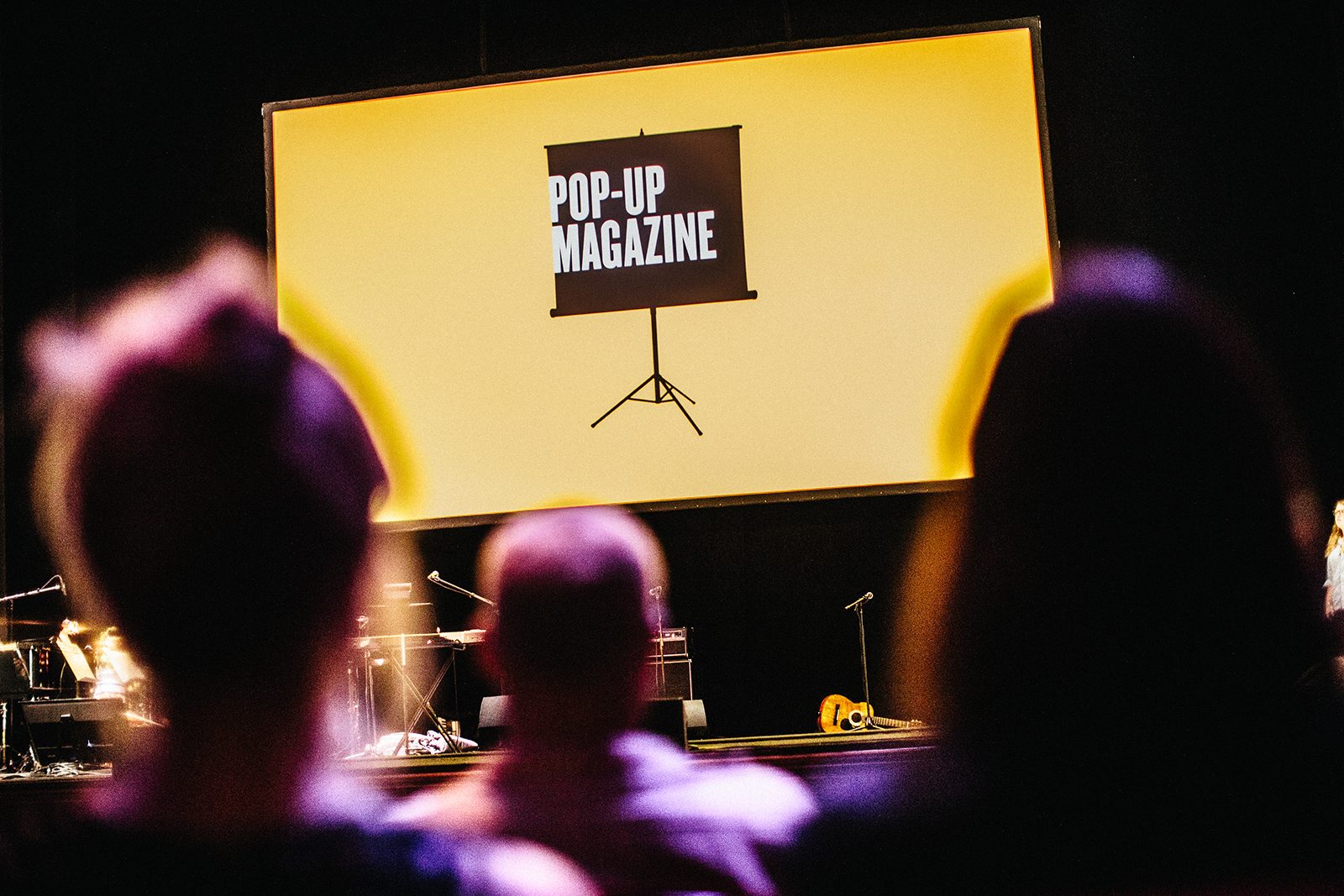 Only the Bostonians who filled The Wilbur Theatre Tuesday night will ever hear the stories told at that particular performance of Pop-Up Magazine. The show was not recorded, nor put online in any way after the fact, so the audience has to pay attention in the moment. As co-founder and co-executive editor Derek Fagerstrom put it, "You can hear the audience listening."
Pop-Up Magazine was founded by Fagerstrom, Douglas McGray and Lauren Smith in San Francisco in 2009 and is currently on its second national tour. The founders wanted to call it a "magazine" because even though it is performed, not read, the 10 to 11 nonfiction pieces that make up each show are the types of stories that might be found in a print magazine.
"Nobody's on stage for that long, but it's enough time to tell a story," McGray said, "and then the audience can kind of turn the page and find something totally different."
Tuesday night's performance included pieces on a wide range of topics, from a short story about a customer service representative at an alcohol company to a first-person account of a relationship between two blind people.
Part of what makes Pop-Up Magazine different from more traditional journalistic media is that the show is not broadcast live. Only the audience present in the theater can experience the show. Fagerstrom said when he started getting into the magazine business, there was a push toward digital content and always being accessible. Pop-Up Magazine stands in opposition to this idea because people are forced to pay attention to the show when they are experiencing it.
"I think that there's a weird thing where something so easily accessible and ubiquitous and so widely available — people don't take the time to really engage with it," Fagerstrom said. "If people know that it's not being recorded, if people know that it's live, if people know that it's here for one day and gone tomorrow, you'll feel in the room the attention that people give to it."
McGray said he has been a magazine writer and editor for years, but started getting into radio and was thinking about how to combine the worlds of print and audio journalism when he thought of a magazine that could be performed on stage.
"Radio was close enough to writing that I could fall into it in this way, but I didn't know any of these radio people," McGray said. "I thought about photographers, too, that I would write a story and someone would photograph it, but it would be rare that we'd ever talk."
It occurred to him that these different creative worlds could mix, McGray said, so they put on a show at a small theater in San Francisco that combined nonfiction stories told through film, photography, audio recordings, animation and performed writing.
Erica Marcus, a senior copywriter for Paint Nite, said she liked how different Pop-Up Magazine is from other forms of journalism.
"I was like, 'Why don't I get on my computer more and write stuff? Like, I can do this,'" Marcus said at the gathering after the show. "Those are the stories you don't get the opportunity to hear that often, so it was really enlightening."
Since the first show in 2009, the magazine has expanded to include live music. Minna Choi, the music director at Pop-Up Magazine, said live music changes a show in a way that a pre-recorded soundtrack cannot. Choi is a solo artist, but also created Magik*Magik Orchestra, which plays during Pop-Up Magazine, when she was a student at the San Francisco Conservatory of Music.
"If you had just a pre-recorded thing, you could start it and play it out and hope that it lines up, but a lot of times it's not going to work out," Choi said. "You can respond instantly — if the speaker starts talking slower, I can slow the band down a little bit. If they start talking faster, the band could play a little faster."
A wide range of people usually attend Pop-Up Magazine's shows, Fagerstrom said, but he added that he hopes it specifically attracts young people who want to go into media or storytelling, but might not have a specific track in mind.
"I would hope that Pop-Up is a place where people who are interested in telling stories and who are interested in media would come to our show and see the people who are making great media today — and there are different ways to do it," Fagerstrom said. "Storytelling still exists."