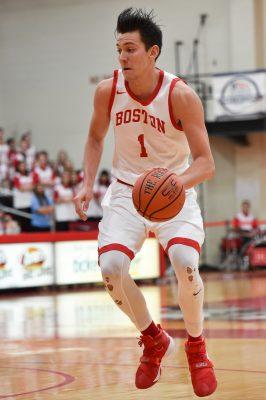 The Boston University men's basketball team will have two opportunities at home this weekend as part of the Steve Wright Classic to capture its first win of the young season.
Both Northeastern University and The University of Maine come to Case Gym, with the Huskies (2-0) and Terriers (0-1) finishing off the second leg of a home-and-home series.
In the first matchup last Friday, the Huskies' hot shooting and zone defense proved too much for BU, who lost by 10 points. Northeastern dominated play in the first half, outscoring BU 41-25.
"Initially, we have to get out to a good start," BU head coach Joe Jones said. "Obviously they played well in the first mid-to-late half; we didn't play well. The other thing we have to do is keep a presence to the game. Obviously they shot a great percentage, and we struggled to stop them."
That great percentage in the first half was exemplified by the 7-for-16 shooting from 3-point range that enabled the Huskies lead to grow.
BU struggled throughout the game to run its offense through the paint, as almost half of its attempts were from behind the arc. Junior forward Nick Havener, who had a breakout season last year, did not get any shots up and BU suffered because of it.
"Getting the ball into the paint, whether by pass or by the dribble, we've got to do a better job with that," Jones said. "That's why that was one of the keys going in, but we just sort of throw the ball around the perimeter and chucked three's."
Havener was not the only Terrier who struggled, as sophomore guard Kyle Foreman had troubles as well. The Clyde Hill, Washington native fouled out of the game.
This mirrored his performance in the season opener last season, also against Northeastern, where Foreman fouled out. Jones attributed Foreman's foul troubles to his attempts to stay active defensively.
"There's no question he was trying to stay aggressive, but he'll be smarter," Jones said. "I have a lot of faith in Kyle that he'll make better decisions come Friday."
In their second game this weekend against the Black Bears (1-1), the Terriers will be facing a team from the America East Conference that is coming with a pair of starkly different results to begin the year. After losing by 13 points to Virginia Tech in their season-opener, the Black Bears came back to defeat Longwood University by 22 on Sunday.
The Bears are led by a pair of junior guards in Wes Myers and Ilker Er, each averaging double-digit points through the first two games of the season.
Though the Terriers will face this formidable offensive duo, Jones is more concerned about his own team and its development.
"I have not watched a second of anybody else," Jones said. "We've got to be more patient on offense, we rushed through stuff and that hurt us. We have to go out now and be ready to play for 40 minutes."
BU needs to improve several areas from its first game, including getting junior guard Cedric Hankerson into a rhythm after he played in his first full game in almost a year. Hankerson went 2-for-11 in his return and must become a more efficient piece of the Terrier offense as the season progresses.
Although Hankerson plays an important role, Jones believes the main goal is to run the ball through his big men and attack the zone defense that gave his team fits in their season opener.
"We worked hard on attacking the zone and getting more comfortable that way," Jones said.  "But if we don't get the ball into the paint, we can't get fouled. We can't get easier shots. Whether we're going to get to the rim, we're going to post people up, or we're going to keep out for threes, the whole game changes if we don't get the ball into the paint."