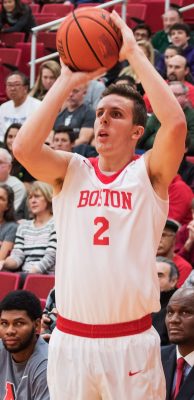 Returning faces and new additions alike bolstered the Boston University men's basketball during the inaugural Steve Wright Classic this weekend, as the team played three games in three days, winning all three.
"We've been lucky," said BU head coach Joe Jones. "We had a lot of good players coming back and we added three."
Senior guard Eric Fanning was the leader for the team just like he has been the past two seasons, averaging 14.7 points per game throughout the weekend.
Though Fanning and the Terriers (3-1) played well, the freshmen finally got the opportunity to showcase their abilities when some returning players struggled to find their footing.
Sophomore guard Kyle Foreman is the prime example of returning players with early-season struggles. After fouling out after just 15 minutes of play in the season opener at Northeastern University, he returned on Friday — in a rematch versus the Huskies (3-2) — and ended up with more fouls (four) than points (three) in 23 minutes of play.
Foreman was a member of the Patriot League All-Rookie Team last season, but his struggles have opened the door for freshman guard Destin Barnes, who has been seeing increased playing time.
In 20 minutes against Northeastern on Friday, Barnes notched three blocks and two steals to go with five points.
The Huskies contest was also an important one for freshman forward Tyler Scanlon. After only two points in the season-opener, he scored eight points on Friday before exploding less than 24 hours later for 15 points and three steals in BU's win over the University of Maine.
In the Terriers' 102-78 blowout victory over Maine (1-3), Scanlon got an immediate opportunity after junior forward Nick Havener picked up two fouls in the first six minutes.
Scanlon had 13 of his 15 points in the first half and helped the Terriers enter halftime on a 33-19 run.
Saturday's win over Maine also saw Foreman play his best basketball of the young season. The Clyde Hill, Washington native chipped in nine points, while Barnes came off of the bench and added 10 of his own.
Another player who stepped on Saturday was freshman forward Max Mahoney, who saw his first significant game action against the Black Bears and contributed five points to go along with a game-high nine rebounds.
"I was pleased with, in particular, Max Mahoney," Jones said. "[He] came in and gave us a nice spark in the first half. Obviously with his defense and his rebounding, like Max had nine rebounds in the game. [Scanlon] shot the ball well in that stretch, opened the game up a little bit for us."
Sunday was another successful day for the Terriers as they notched their third consecutive victory, defeating LIU Brooklyn 86-69. Scanlon again stood out, as he scored eight points and snagged five rebounds.
"He had five [rebounds] yesterday too, he has played well," Jones said. "Just watching him in high school, it doesn't surprise me what he's doing, it doesn't surprise me what any of these guys are doing. Tyler gives us a guy on the outside as a forward; he is a good passer, his skill set is very good. He's struggled rebounding and this weekend he did a good job."
The weekend as a whole exemplifies the type of potential that this Terrier team has. If the freshmen continue to step up the way they did this weekend, and returning players like Foreman can climb back to prominence, Jones and his squad should be set up for a successful 2016-17 campaign.
"We've had one or two guys who were freshmen that were able to get into the rotation," Jones said of previous years. "We haven't had three in a year with the quality of minutes that these guys might be able to play and it just sort of adds to the depth that we have."