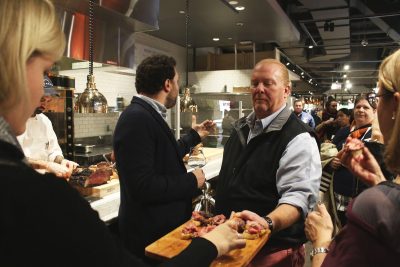 Tucked in the Prudential Center behind drywall and a giant "Coming Soon" poster sits a 4,500-square-foot mecca of Italian food and culture. Opening Nov. 29, Eataly Boston will be home to four restaurants, 10 eateries, two cafes and five fresh produce counters. In addition, there will be a marketplace of more than 10,000 products with at least 500 employees. A week and a half before the opening, Eataly opened its doors for an exclusive press tour.
Eataly Boston will be the fourth Eataly establishment in the United States. Founder and creator Oscar Farinetti and his son Nicola Farinetti insisted that its homage to Boston will clearly set the location apart from the others, which include two in New York City and one in Chicago.
"In every way that we can, we are using local products. We are bringing in a lot of stuff from Italy, but in any way possible that we can use local products, we will," said Nicola Farinetti, the CEO of Eataly.  
Because of Boston's abundant seaports, Eataly decided to make seafood a large focus. Visitors can sample raw oysters and lobsters fished fresh that morning by local, independent fishing companies.
"We're really looking forward to having it local, for people to be come in and eat and drink and shop through all of this with products exclusively local to Boston," said fisherman and Eataly employee Charles Sherman.
It would not be a proper Eataly establishment without an homage to Italy. World class chef and Eataly partner Mario Batali expressed his excitement for Eataly's mission of showcasing the Italian culture of loving food to everyone in Boston.
"The entire store is a didactic experience where we express to you what we think about pasta, about fish, about protein, about wine and how we can share that information to you," Batali said.  "We share a joy of the magnificent idea of how feel good food is."  
Batali elaborated on the interactivity of Eataly and how that makes the establishment especially unique.
"The information exchange is not just one way, it is two," Batali said. "We expect to learn from you, to learn your needs, to learn your tastes."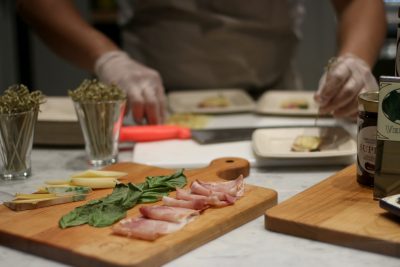 An example of this two-way interaction is Eataly's extensive wine collection. Nicola Farinetti enthused on the partnership as he waved through the seemingly endless rows of imported wines.
"What we're trying to do here is to destroy every wine habit you may have," Farinetti said. "We want you to come here, to talk with our guys here and to leave with a different wine every time. Come with curiosity, leave with something different."  
But Eataly wouldn't be a true Italian establishment without an emphasis on pizza and pasta. The pasta will be homemade and the pizza traditional.
"We like to be simple, as much as possible," Farinetti said. "Simplicity is very difficult. As you can see with our pizza, we tried to use the simplest ingredients. Just salt, water and flour. There is no extra oil, just 48 hours on the oven, with Italian mozzarella and locally grown tomatoes."
Batali added to this, emphasizing on how Eataly aims to destroy the concept of fast-casual food in order to make dining become something more special and honorable.
"This is the idea: that we tease you, tempt you, we bring you in, in order to understand that we're really trying to get you to avoid fast-casual, highly processed foods," Batali said. "That's our fundamental idea."  
Several notable Boston food bloggers and journalists attended the tour. Brittany DiCapua, founder and operator of popular blog Boston Food Journal, expressed her enthusiasm.
"As an Italian, this is about as real as it gets," DiCulpa said.
Barbara Lynch, two-time James Beard award-winning chef and Eataly Boston chef collaborator, closed the tour with excitement about the future of the establishment.
"It's the best thing to happen to Boston in a long time," Lynch said.