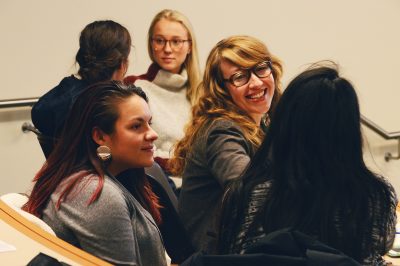 Despite the promises of equality and respect by employers nationwide, women continue to only make 80 cents for every dollar that men make. That amount drops for African-American women, Latina women and Hawaiian and Pacific Island women, explained Jacqueline Merl Bamman, a salary negotiation workshop facilitator for the American Association of University Women and the City of Boston, to a group of Boston University students Thursday.
Among the many reasons for this statistic is the fact that women do not negotiate their salaries as rigorously as men typically do, and that there is an inherent bias and premature discrimination from companies, Bamman said during the AAUW's Work Smart negotiation workshop. The workshop was created in partnership with Questrom's human rights organization RISE Forum and women's business club herNetwork.
A group of about 30 male and female students from the Question School of Business attended the event at the business school, and learned skills on how to bridge the pay gap and effectively negotiate salaries.
Bamman, who facilitated the main seminar, focused on the ways women can confront their employers about their salary and benefits, as well as become empowered to get upper leadership positions in the workplace.
"Even though women are asking for raises as often as men, we are not getting [raises] as often, and women who do ask are seen as bossy or mean far more than men are," said Nicole Green, a senior in Questrom and president of RISE. "This [seminar is] to help combat that stereotype and those issues."
Bamman began the seminar by introducing the four steps of negotiation, which would become the four parts of the workshop. These steps included knowing an individual's value, benchmarking personal salary and benefits, knowing self strategy and practicing a potential negotiation situation. The audience was instructed to list their own qualifications and accomplishments in a workbook, provided as part of the seminar.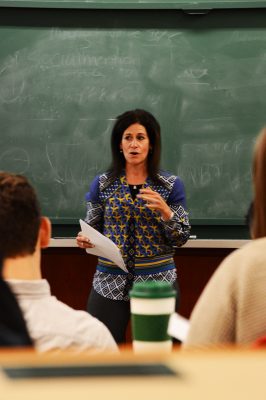 "We talk about knowing your professional value, some tools to learn how to do research for your salary and strategies for asking for a raise verse negotiating for a new salary," said Kristina Desir, AAUW Work Smart in Boston's program manager. She said she believes that teaching "financial literacy" is one of the most important steps in closing the gender wage gap.
At one point, Bamman asked the audience to describe their anxieties surrounding negotiations in the workplace. Many students responded with personal stresses, such as not being deserving of the salary, promotion or benefit, not having enough leverage to make such a request or being negatively perceived in the work environment. 
The workbook also contained a profile for a fictional female job applicant, as well as the criteria for a job she was applying for. The audience discussed the subject's relevant qualifications that would make her an ideal candidate for the position and concluded that she aligns with the job description.
The attendees used two websites, Salary.com and PaycheckCity, during the exercise to determine a salary range for the candidate, according to Bamman. This exercise taught the participants how to view qualifications from an impartial perspective and project the amount they should be getting paid.
Toward the end of her talk, Bamman told students it was important to understand personal wants, needs and priorities in comparison to the company's wants, needs and priorities.
"Negotiation is a conversation," Bamman said. "Not a battle."
Some students seemed to leave with a better understanding of their potential employers and themselves.
"I already have a job, but if I want to negotiate a raise in the future or more vacation days or something, I feel like this will be very helpful. I just need more general information," said Morgan Cappetta, a senior in Questrom who attended the workshop.
Some attendees related the information given during the workshop to current events.
"Our hope is that we're able to give people some really good tactical things they can do to actually negotiate and walk away feeling more comfortable, not just negotiating for things in their career, but in life," said Keilani Sakumoto, a senior in Questrom and the RISE Forum vice president. "Especially with the recent presidential election, we see that women more and more need to know how to stand up, fight for what we believe in and negotiate to make sure that we're all getting equal things."