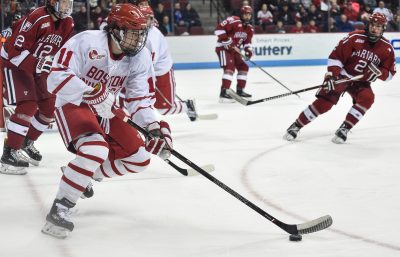 Pat Curry and Ryan Cloonan, especially on a team with 11 NHL Draft picks, are hardly ever going to jump off the page.
They're typically third or fourth liners who combine grit with skill, testing a defenseman's patience and a goalie's focus. But when the No. 7 Boston University men's hockey team hosted No. 9 Harvard University on Tuesday night, a gentle reminder of the freshman and sophomore's importance arose.
"It's nice to win Draft Day, but that doesn't translate to winning hockey games," said head coach David Quinn. "…The Patrick Currys and the Nick Robertos of the world and guys like that, and Cloonan and [Gabe] Chabot and the guys that don't get a lot of attention, are key, key players for us. They stepped up for us tonight."
But, as is usually the case with players not in the limelight, their contributions, even in a vital 5-3 win by the Terriers (7-4-1, 2-1-1 Hockey East), seldom stole the show.
Curry snagged an assist on freshman forward Kieffer Bellows' tally late in the first frame, only to pot BU's insurance tally with 1:30 remaining in the contest. Cloonan, meanwhile, attempted just one shot, but their intangibles left a lasting impression.
Curry, often up against the Crimson's (5-2-1) Sean Malone, a Buffalo Sabres draft pick, was buzzing across all 60 minutes. He sacrificed his body on multiple occasions, blocking a Harvard howitzer from the point late in the third period, and repeatedly cycled the puck deep in the corner.
Meanwhile, Cloonan, who missed BU's last four games with an upper-body injury, saw time on the second power-play unit and thrived as a third-line winger. None of it was flashy, none of it was sexy by any means, but their contributions – large or small – added up against the Crimson.
"I think obviously the first thing you talk about is the skill of our team, but we have a bunch of guys here who like to work, who like to grind and put pressure on other team's defensemen," said senior captain and defenseman Doyle Somerby. "Luckily Pat gets rewarded tonight for that, and that was good to see."
Perhaps the biggest takeaway from Curry and Cloonan's night, though, was what they symbolically represented.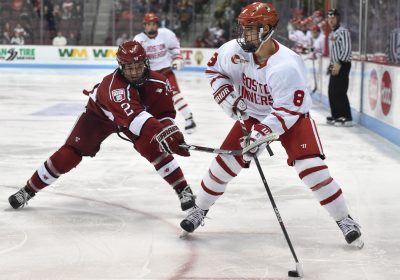 Injuries have piled up for the Terriers in 2016-17's early goings, namely to freshman forward Clayton Keller, junior assistant captain Nikolas Olsson and Cloonan. During their absence, BU was blanked twice in four games and kept off the scoreboard for nearly two full hours before Bellows' goal.
In other words, the going was tough in and around Agganis Arena, and change was needed. The ever-pragmatic Quinn recognized this, and BU, for the first time in weeks, played with balance throughout its four lines. That approach, perhaps not in the most overt way, was embodied by Curry's performance.
"Over the years I've been considered more of an energy guy who plays physically, and I kind of like to embrace that," Curry said. "With some of the injuries I've been put up on the power play and I've had to adjust."
The biggest takeaway from Tuesday's win – outside of Curry and Cloonan's showings – is that BU now heads into the Thanksgiving break on a high. Quinn's squad doesn't play against until Dec. 2 against Providence College, and the elation of victory is fresh.
Somerby noted how that'll afford guys like Olsson and possibly Keller – who Quinn said is recovering from his lower-body injury ahead of schedule – time to recover. That, in turn, could pave the way for more contributions in the mold of Curry and Cloonan's against Harvard.
In the interim, Curry was just happy to get two points, especially against a legitimate NCAA Tournament contender.
"Going into Thanksgiving with a win is huge," the Schaumburg, Illinois native said. "We definitely didn't want to go into it with a two-game losing streak. I felt like we did a lot of good things tonight and it's going to be good to build off when we come back and see if we can get a streak going here."