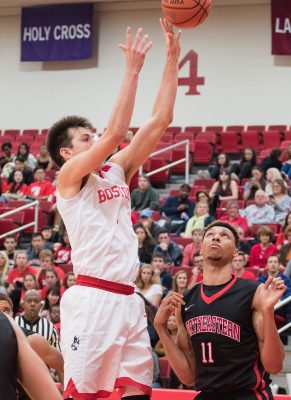 With its season off to a fast start, the Boston University men's basketball team will look to continue its hot streak against Saint Peter's University on Monday night away from Case Gym. The team will be looking for its fifth straight victory after trouncing Division III foe Western New England University 91-54 two days before Thanksgiving.
The Terriers (4-1) have struggled out of the gate in recent years, with their strongest recent start coming in the 2013-14 season when they began 6-2. Strong shooting and willing passing has aided BU head coach Joe Jones' side through the first five games.
Compared to last year, when BU averaged 13.5 assists per game, the team is currently dishing out 15.8 per contest. The Terriers have seven players with seven or more assists, with senior guard Eric Fanning leading the way with 12.
"I think they enjoy playing with each other," Jones said. "When you have talented guys that like to play together it really helps, and I think we're seeing that."
BU has scored more than 86 points in three of its five games thus far, something it did only three times all of last season.
One person who has not gotten in on the scoring frenzy is junior forward Nick Havener.
Although Havener is shooting 71.4 percent from the field, he has only taken 14 shots thus far, good for only five points per game. One area where Havener has excelled is rebounding. The 6-foot-8 rim protector is averaging almost seven rebounds per game, two more than the next closest teammate, which is Fanning.
"Nick's done an amazing job," Jones said. "He got off to a slow start, but he's really focused right now and he's really contributing. We don't win the [Northeastern University] game without Havener in there."
One possible reason for Havener's lack of scoring in the early going is foul trouble. He leads the team in fouls with 14, and that has at least partially led to him only getting 14.4 minutes per game.
The Terriers will be facing an opponent in Saint Peter's (2-2) that is looking for a winning season that has eluded the club for some time. In their season opener, the Peacocks fell 61-57 to a BU rival, Lafayette University.
The leader for the Peacocks is center Quadir Welton, who averages 16.3 points and eight rebounds a night. Guard Nick Griffin also averages double-digit points with 12.8, but those have been the lone prolific scorers for the team thus far.
Saint Peter's has struggled shooting the ball, as it only converts 41.1 percent of its shots, and has only converted 32.5 percent from long range.
BU is shooting marginally better at 37.8 percent from deep, and the success of the 3-point game may be a crucial deciding factor on Monday night.
Though Jones and the Terriers have impressed thus far, there is still room for improvement in certain areas, particularly on the defensive end, Jones said.
"I think there's some room to grow," Jones said. "The biggest step is to keep improving defensively. The second half of games we haven't defended as well as we have in the first half, so figuring out how we can come out with the same amount of energy and focus in the second half is gonna be important. And we're fouling way too much."
Jones said he has been impressed with his team's distribution and depth thus far; look for those elements to play key roles in the upcoming tough stretch for BU before Christmas.
"We first were able to see that last year. We felt pretty confident that the freshmen would be able to come in and contribute scoring-wise," Jones said. "So we've really been talking about how important it is that we share the ball with each other, take good shots, and it's not about who's taking the shot; [we] just want to make sure it's the right shot with the right person."