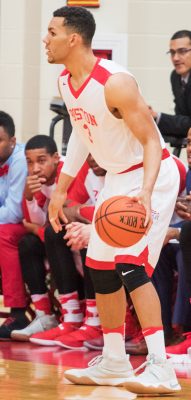 The Boston University men's basketball team's wave of momentum was halted in an 80-67 loss to Saint Peter's University on Monday night. The Terriers (4-2) had been on a four-game winning streak before running into the Peacocks (3-2) in Jersey City, New Jersey.
Areas where the Terriers had been thriving turned into weaknesses against Saint Peter's as turnovers, foul trouble and poor 3-point shooting proved to be their downfall.
"We got outplayed. We struggled to guard their big kid inside, [senior Quadir] Welton," BU head coach Joe Jones said. "He took it to us. That kind of set the tone of the game. We kind of got out to a good start and then way too many foolish fools. We turned it over 18 times; we didn't play well at all."
Although BU finished shooting a respectable 50 percent from the field, they struggled from behind the arc, converting only five of 22 attempts.
The game started off well for the Terriers, as they held the lead or were close to it for the first 10 minutes of the game. The game shifted around the midway point in the first half, though.
After senior forward Dylan Haines converted a layup to give the Terriers a three-point lead with 12:30 to go, the Peacocks would make a run.
Guard Nick Griffin connected on back-to-back 3-point attempts to give Saint Peter's a 19-16 lead that BU could never overcome. The Peacock lead would balloon to 11 with 7:04 left in the half, and although BU attempted to surge back, it could never finally find the momentum to mount a solid comeback.
The team's last gasp occurred with 9:04 remaining in the second half when sophomore guard Kyle Foreman drove and scored to cut the lead to three. Saint Peter's responded quickly with a pair of Welton free throws and a sophomore Antwon Portley 3-pointer that put the team back up by eight, and ended the Terriers' chances of victory.
Foreman was one of the few positives for the Terriers, finishing with a career-high 20 points. The Clyde Hill, Washington native had struggled this season with foul trouble, but his 8-for-11 shooting performance on Monday was an improvement.
The squad's usual leading scorer, senior guard Eric Fanning, had one of the worst nights of his BU career. He finished with three points on 0-for-7 shooting. The Trenton, New Jersey native had been averaging a team-high 16 points coming into the contest.
Aside from Fanning's poor shooting, BU also turned the ball over 18 times, compared to Saint Peter's 10 miscues.
"We had a lot of unforced turnovers," Jones said. "They don't pressure you — they plan man-to-man defense the whole time. Careless passes, poor decision making."
With junior forward Nick Havener out due to injury, Haines and senior center Blaise Mbargorba stepped up. The pair contributed 16 total points on the offensive end, but Jones wasn't particularly impressed with their rebounding efforts.
"Dylan had five rebounds, Blaise had one, so I can't say that really had an impact [on the team's rebounding]," Jones said.
The loss of Havener was made worse when senior forward Justin Alston ran into foul trouble. Fouls were a constant for BU throughout the night, as Saint Peter's was fouled 23 times.
This loss exposed some of the issues that BU may continue to have throughout the season if it fails to defend, and for Jones that may be the team's most significant issue going forward.
"We didn't particularly play well. We struggled to play with any flow," Jones said. "Defensively we didn't get after it. It's going to be tough for us to win games when we can't defend."