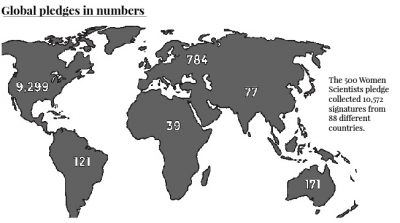 Search the phrase "open letter" on Google, and you will find approximately 19 million results. One open letter, however, is reaching the masses on an entirely new level.
With 10,572 individually vetted signatories from 88 countries as of Wednesday, the 500 Women Scientists pledge aims to combat discrimination and "find innovative solutions to the problems [women] face in the U.S. and abroad," according to a copy of the original pledge published online.
In addition to solving problems through innovation, the open letter invites women in science and their colleagues to "declare [their] support to each other and to all minorities, immigrants, people with disabilities, and LGBTQIA."
"We see the pledge as a foundation for creating a global network of women scientists," Kelly Ramirez, one of the original signatories and a representative of the 500 Women Scientists movement, wrote in an email to The Daily Free Press.
The threatening political climate drove many of the founders' concerns, Ramirez said, adding that the organization wishes to combat "anti-knowledge sentiments" by way of inclusivity and collaboration.
"Coming together gave us a chance to turn our frustration in a positive direction and begin to build an inclusive global community," wrote Ramirez, who is currently a postdoctoral scholar at the Netherlands Institute of Ecology. "We were driven to write the open letter to address our shared concerns, give women scientists a collective voice, and pledge support to each other."
The pledge also piqued interest at the local level. Forty-nine faculty and affiliates of Boston University have signed the pledge, including Kim McCall, a professor and the chair of BU's Biology Department.
While she said she does not often witness overt discrimination in the classroom, there is an unconscious and inherent bias.
"It's all very subtle," she said, referring to "little things" she has witnessed in the classroom and the workplace.
Deborah Belle, a professor in BU's Department of Psychological and Brain Sciences, said she also sees subtle discrimination in the workplace. Belle said her career in science was inspired by an interest in understanding gender roles.
Women are just as qualified as men but receive "discouragement and can be effectively deterred," she added.
Steps such as the pledge are much needed, Belle said, and "in the Trump era, it will be absolutely necessary for all of us to come together."
Pamela Templer, a professor of biology and director of the Ph.D. program in biogeoscience at BU, said she felt the letter was not all-encompassing, but she also chose to join the list of signatories for its values.
She wrote that she signed the pledge because, like many other scientists, she strives for "equality, diversity and inclusiveness across gender and traditionally underrepresented groups."
"I don't think that any one letter can convey the concerns of one community, as any community contains a rich diversity of opinions," Templer wrote in an email.
Some students who aspire to be scientists in the future also became receptive to the initiative and what it represents. Samantha Delgado, a freshman in the College of Arts and Sciences, said she felt the pledge effectively conveys the concerns of the community.
"One part I particularly agree with is demonstrating that young girls and women are needed in these careers," Delgado said. "There is something wrong with the lack of encouragement given to young girls to pursue STEM careers."
Abbey McCracken, a freshman in the Sargent College of Health and Rehabilitation Sciences, said that her inspirations for becoming a scientist included influential past teachers, "especially those who were women."
She said the pledge perfectly expresses her concerns with the scientific community, and said she hopes it will "begin to change the community of science to become more inclusive of women."
Elizabeth Co, a lecturer in BU's Biology Department, said she believes inspirational figures are fundamental to the process.
"So much of change is because of people being role models," Co said.
With these leaders, Ramirez said the 500 Women Scientists are hopeful the pledge will continue to go in a positive direction.
"There will need to be fights on so many fronts," Belle said. She later said the initiative is a strong start and the potential for a "remarkably cohesive movement that brings many constituencies together."