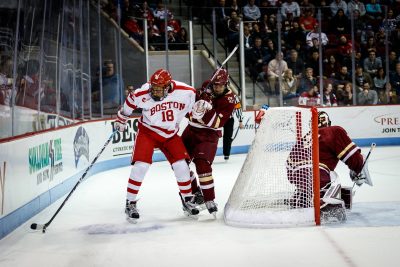 The 271st edition of the rivalry between the Boston University men's hockey and Boston College sure did not disappoint.
It had intensity, elite skill and, of course, a thrilling finish. It even featured 13 participants from the 2017 World Junior Championships and two of Division I's best coaches, the fifth-ranked Terriers' David Quinn and the eighth-ranked Eagles' Jerry York.
With all those marks on display Friday night at Agganis Arena, it was the home side that etched out  2-1 win, earning two crucial Hockey East points in the process.
"Overall, a big win," Quinn said. "Anytime you beat a team like that, you have to be happy and we're certainly happy."
While Quinn was full of praise, it was BC (14-8-2, 9-2-1 Hockey East) that started the game playing heavy and hard, tossing checks on every shift. That set the stage for a 0-0 scoreline after one period, only for a flurry of second-period goals to spring Agganis to life.
Just 3:47 into the second frame, sophomore forward Jakob Forsbacka Karlsson tipped home a shot from freshman defenseman Dante Fabbro, marking his sixth goal in BU's (13-5-2, 6-2-2 Hockey East) last three games. BC answered right back on the power play, though, with sophomore Colin White banking home a tic-tac-toe play into the gaping net of freshman netminder Jake Oettinger.
With the score knotted at 1-1, sophomore forward Jordan Greenway took matters into his own hands, wrestling the puck from several Eagles below the crease. He then fused his strength with vision, finding freshman forward Clayton Keller on the doorstep of BC's netminder, Joseph Woll. Keller, for the eighth time all year, made no mistake, granting BU a 2-1 lead.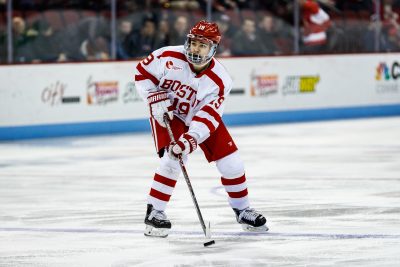 "People talk about [Greenway's] size and his strength, and that certainly is evident, but I think the thing that doesn't get enough attention is what a great playmaker he is," Quinn said. "He has great vision, on the power play he makes the right play, he's a guy that makes other players around him better. He's been doing that for two years here."
When the third frame rolled around, however, it was BU's turn to be hemmed back in its own zone.
The Eagles, rolling four lines all night, threw the kitchen sink at Oettinger and forced him into several jaw-dropping stops. In fact, BU hardly mustered any offensive zone time and sat back, much to the displeasure of Quinn.
"We spent way too much time in our end in the third period," Quinn said. "If we're going to have success and have the season that we want to have, when you're up 2-1 you can't be standing still and playing kitty by the door. You have to continue to play and play for the next goal."
As clock wound down, BU was on the ropes and York pulled Woll, throwing caution into the wind in search of a late equalizer. Those efforts were to no avail, though, as the likes of Forsbacka Karlsson and Greenway hardly let BC enter the BU zone, icing the victory.
All things considered, Quinn was relatively pleased with his team's performance, while York said he thought BC could have snatched a point if not for Oettinger.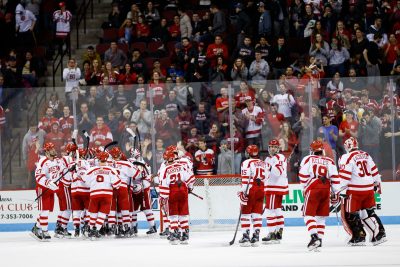 Those leanings mean little, though, as BU is now slowly crawling up the conference standings and boasts a five-game winning streak.
"At the beginning of the year, I think one of the goals we set as a team was to come out on top at the end of the season as regular season champs," said senior captain Doyle Somerby. "BC is in our way right now – they were 9-1-1 coming into the game in the league. We knew what was at stake and it's nice to walk away with that win."
The squads are right back at it on Monday night, too, this time at Conte Forum. Come that go around, Oettinger said it's crucial for BU to quickly refocus.
"All the guys are just going to be responsible and take care of ourselves now," Oettinger said. "The next couple of days are going to be huge and we wanted to give ourselves a chance to get a sweep in their building on Monday. That's the position we're in now."