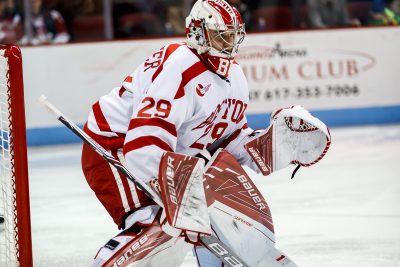 Friday's tilt between the No. 5 Boston University men's hockey team and No. 8 Boston College was always going to be played full tilt, full time.
It didn't disappoint either, as the squads skated heavy on the forecheck, threw hits left and right and surged off the energy at Agganis Arena. By the night's end, though, a subtler storyline stole the show: who would win the battle of the two freshman goaltenders.
On one side it was the Terriers' Jake Oettinger, and on the other it was the Eagles' Jake Woll, both of whom recently won gold with Team USA at the 2017 World Junior Championships. By the night's end, it was Oettinger who got the last laugh in a 2-1 win for the Terriers.
"He's a good player, takes up a lot of the net," said BC (14-8-2, 9-2-1 Hockey East) head coach Jerry York of Oettinger. "He's 6-3, 6-4, so that helps, but he reads the play well. I think both goaltenders are pretty good guys, we just have to keep them healthy, both of us."
Given Oettinger's 32 saves, it's no surprise that he caught the eye of York, especially because some were of spectacular variety.
The first came with 4:31 left in the second period when BC's Colin White strode past freshman defenseman Chad Krys, forcing the 18-year-old netminder to deter the forward's breakaway. He got the best of White on another breakaway, this time with 3:42 left in the third period.
Oettinger, a likely first or second round selection in the 2017 NHL Draft, saved arguably his best stop for winger Christopher Brown. It came with 15:07 left in the third period and saw the Minnesota native flash his pad to deny Brown of what seemed a sure goal.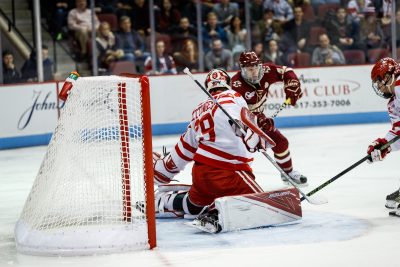 "I felt comfortable and thought I got better as the game went on," Oettinger said. "Just continuing to work on little things that are going to make a big difference in my game is something that I've been doing and just trying to get better at every weekend."
While Oettinger ultimately got the two points – and his 10th win of the year – Woll was similarly stellar. He posted 31 saves, including 15 in the first period that prevented BU (13-5-2, 6-2-2 Hockey East) from doing damage early and often.
In fact, Woll drove rave reviews from York, and perhaps even more so from Oettinger, his former teammate with the U.S. National Team Development Program.
"I know Joe really well from playing at the NTDP the last two years and then the World Juniors," Oettinger said. "He's a great goalie, a great guy and I've been on the other side of games like this, too. I know how he feels, but he gave his team a chance to win and was solid all night. It was a fun back and forth."
As small as the margin between Oettinger and Woll was on Friday night, it's perhaps even smaller when the statistics are laid out.
On one hand there's Oettinger who leads Hockey East in goals against average (1.88) and save percentage (.932). Then there's Woll, a stonewall in his own right who owns an 11-7-1 record between the pipes and has helped BC lessen the loss of Thatcher Demko.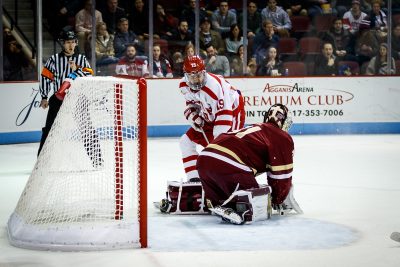 Still, Oettinger stressed after the game that he's not the only one who deserves credit. Rather, he believes his defense does, whether that be the likes of blueliners in sophomore Charlie McAvoy and freshman Dante Fabbro or sophomore Ryan Cloonan, the third line center.
Whoever, it is, they helped Oettinger see out the Eagles with blocked shots, strong sticks and more.
"The guys in front of me and Joe were great tonight," Oettinger said. "It made my job easy, and I just tried to be there when I needed to be there for the guys."
Luckily for BU and BC fans, they won't have to wait long to see Oettinger and Woll again duke it out, as the squads meet on Monday night at Conte Forum.