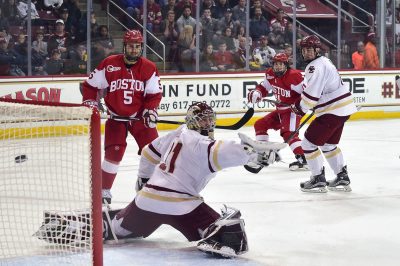 Truth be told, the first 25 minutes or so of Monday night's clash between the No. 3 Boston University men's hockey team and No. 10 Boston College fell short of expectations.
The squad's two freshmen netminders – BU's Jake Oettinger and BC's Joseph Woll – offered composure, but the combined 10 skaters from the 2017 World Junior Championships were struggling to create scoring chances.
In other words, Conte Forum's 7,884 fans were yearning for any breakthrough.
With 12:34 left in the second period, they got just that, as freshman winger Patrick Curry found the top left corner with one tick remaining on the power play. By the tilt's end, Curry's third tally of the year proved vital, pushing BU toward a 3-0 win and its sixth-consecutive victory.
"Pat's had a great year for us," BU head coach David Quinn said. "In a class that got a lot of attention, he didn't. He's been a very, very important part of our team."
While Curry's goal was a thing of beauty, it's often easy to overlook his contributions, especially on a team that boasts 11 NHL Draft picks. Instead of relying on skill, the 21-year-old from Schaumburg, Illinois makes his presence felt through physical play, finishing his checks and getting under the other team's skin.
All that and more was on display against the Eagles (14-9-2, 9-3-1 Hockey East), as Curry thrived on a third line that adds a little something extra to BU's (14-5-2, 7-2-2 Hockey East) approach.
It boasts junior assistant captain Nikolas Olsson's physicality, sophomore Ryan Cloonan's speed and Curry's verve. For Quinn, that line may not get on the scoreboard often, but their contributions certainly add up.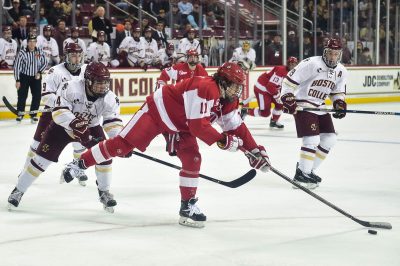 "Cloonan can really skate, and Ryan has had a really good season for us even though he hasn't got rewarded statistically," Quinn said. "Curry and Olsson bring that little bit of thump. … We feel confident in all four of our lines."
The third line, as centered by Cloonan, is often tasked with bringing a change of pace and tenacity, too. That niche has served Curry well throughout 2016-17, as evident by a subtle contribution late in the third period against BC.
Driving into the zone, Curry created space for himself, ultimately drawing a slashing penalty on BC's Michael Kim with 2:57 left in the contest. That man advantage led to another penalty – Colin White charged sophomore defenseman Charlie McAvoy from behind – and BU used it to ice the game via a slap shot from sophomore forward Jakob Forsbacka Karlsson.
It was Curry's subtle play, though, that got it all started.
"Honestly coming into the game, my legs felt really good," Curry said. "The first couple shifts I felt like our line – Olsson and Cloonan – was getting a lot accomplished out there. It was honestly just the start that gave me the confidence to have a solid game."
Even though Curry was strong against the Eagles, he admittedly had been cooling off from a red-hot start to the season. He potted his first collegiate tally on Nov. 4 against Northeastern University and then scored again on Nov. 22 against now-No. 6 Harvard University.
Along the way, he's chipped in five helpers, but conceded that he's been waiting to break out for quite some time.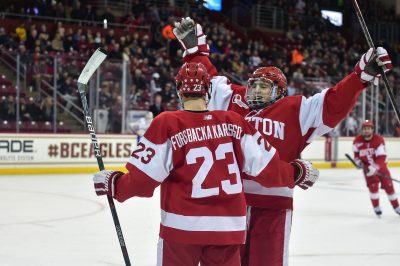 "I was kind of upset that I haven't been on the scoresheet lately," Curry said. "I've had some opportunities in past games, but felt like I was a bit snakebitten. Obviously it felt nice to get that win tonight against a big, bad team like Boston College. I guess we haven't swept them since 2002, so it's a good time to get off the snide."
As that last bit alludes to, Curry, who finished as the night's second star, reflected on the Terriers beating their bitter rival. It was the 272nd time the two sides met, and Monday's result clinched a sweep over the Eagles, with BU earning a 2-1 win at home on Friday.
Now with four points in hand, BU is gradually climbing up the Hockey East standings and showing just why it's a top-five team in the Pairwise Rankings and national polls.
"It's huge, especially against a rival like this," Curry said. "We don't really like each other very much on the ice and I think they had a lot more games in hand – they were actually doing really well in Hockey East. It's huge to close the gap coming down the wire here."