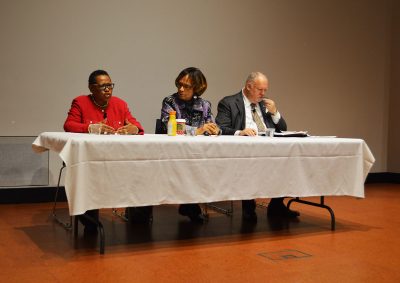 The Howard Thurman Center for Common Ground hosted a panel discussion Monday evening on racial tensions in the United States relating to President Donald Trump. More than 50 students and faculty members gathered in the Boston University Law Auditorium to listen to the panel.
Dean of Students Kenneth Elmore moderated the event entitled "King's America or Obama's Post-Racial America?" in light of Martin Luther King Jr.'s work during the civil rights movement.
Pedro Falci, the event organizer and assistant director of HTC, said this conversation came at an important time, shortly after the Martin Luther King Jr. Day and President Trump's inauguration.
"We know there was a lot of social, political, cultural unrest in the country, and this is a chance to really think about where we have come since the days of MLK," Falci said before the event.
Falci said the panelists bring knowledge from a diverse range of experiences and "could really provide some profound reflections on the theme."
Much of the conversation centered on America's progress since the civil rights movement.
Panelist Roger Brooks, president and CEO of nonprofit organization Facing History and Ourselves, shared his views on the advancement of civil rights in America.
"We're making progress, but it always feels like we're backsliding," he said. "We take these major steps forward, and then we fall back to where we were."
Conversely, Katherine Kennedy, director of the Howard Thurman Center, said she has never thought of America as post-racial. Kennedy said she sees progress in the way students to talk to each other about the issue of race relations.
"The progress that I think we have made is with the students who are eager to learn and reach out and get to know each other, regardless of your skin color or your major or your socioeconomic status," Kennedy said.
She said she finds the post-election attitude of "[giving] Trump a chance" frustrating, saying she doesn't think his "non-presidential message" will change.
"I was raised [to believe] when people show you who they are, you believe it," she said. "Right now I'm not expecting anything different [from] 18 months ago or six months ago or the day of his inauguration."
After the panelists spoke, the forum opened up to students' questions.
One student posed a question on the implementation of a more comprehensive history program introduced earlier on in schooling.
In response, Brooks spoke about a program his organization, "Facing History And Our Ourselves," has introduced. The program is directed toward parents of young children on how to raise them while acknowledging racial issues, aligning with the organization's goal of helping teachers have dialogues with their students.
"We're pretty good at helping parents think about how to guide their children on making different kinds of decisions such as letting three-year-olds understand if something's not fair," Brooks said.
During the question and answer portion, the panelists answered students' questions about how to hold conversations on challenging topics with those who may not agree with you.
"You have to have so much self-respect and also strength for what you believe that you are able to stand up no matter what," Kennedy said.
Several students said they learned a lot about how to improve racial tensions in America from the panel.
Lucille Billings, a sophomore in the College of Arts and Sciences, said she realized the importance of education in achieving progress for a post-racial America.
"A big theme for me was education and focusing on the younger generation because they shape history," Billings said.
Adriana Ogle, a junior in the College of Communication, said conversations about race shouldn't be about overloading someone with information.
"I think that understanding and being clear and transparent with each other is something that should be more sought after in terms of trying to prove someone wrong," said Ogle.
Erin Tichenor, a sophomore in COM, said she recognizes the importance of listening to others in order to have a conversation.
 "Today's event reminded me that everyone comes from different backgrounds," Tichenor said. "It's about seeing other people and meeting and listening with them."