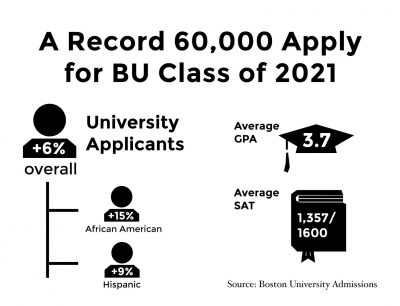 Boston University announced Monday that the admissions office received more than 60,000 freshman applications this year, setting a school record.
This figure surpasses the then-record 57,433 applicants from last year and keeps BU nearly atop the list of most applied-to private universities in the nation.
Kelly Walter, the director of admissions at BU, attributes the rising number of applicants to many attractive characteristics the university has to offer.
"BU is committed to academic excellence," she said. "We've had a strong commitment to strengthening our undergraduate program here at the university. We're global, we're urban, we're diverse."
The target enrollment for the Class of 2021 is 3,400 students, according to BU spokesperson Colin Riley.
Of those accepted, more than one-third will be students who applied via the university's Early Decision program, which also saw a significant increase in applicants this year.
Riley said another factor that lead to the increase may be the university's new styles of recruitment, including the use of social media to engage and attract more prospective students to campus. The number of students who visited BU's campus was 14 percent greater than that of last year, totaling nearly 78,000 students.
The applicant pool for the Class of 2021 was also more racially and ethnically diverse than those of years past.
Approximately 4,300 African-American students submitted applications this year, which is 15 percent more than last year. The number of Hispanic and Latino applicants made up more than one-tenth of the total applicants, reflecting a nine percent increase from last year, according to Riley.
The number of international applicants increased this year as well, totaling more than 13,000 and comprising about 20 percent of the group. These applicants represent 162 countries.
"Diversity is a hallmark of this institution," said Walter. "It's something we're proud of and our students see that and they want to be here."
Walter said the growing number of applicants is reflective of the kind of institution BU strives to be.
"It's a very strong signal that there are students from around the world that see the value in the programs and in the quality of education that we offer," she said. "It comes back to the quality of the undergraduate experience at BU — what we have to offer, our community, our faculty, the fact that BU is named an [Association of American Universities] institution. These things contribute to the experience that these students will have."
The admissions staff is unsure of exactly what the acceptance rate will be this year, but it could be as low as 26 or 27 percent, according to Walter.
The number of students who will apply in the coming years is unknown, she added, but it's encouraging that the number of applications has skyrocketed 69 percent in the last 10 years.
Several students said they look forward to seeing what the increasingly diverse pool of applicants will bring to the BU community.
Kyle Martin, a freshman in the College of Engineering, said he believes the high number of international applicants will be beneficial to other BU students.
"It brings a lot to the community, and it helps people share their experiences with people who may have experiences different than them," he said.
Paige Breaux, a junior in the College of Arts and Sciences, said the increase in minority applicants bolsters BU's claims of a diverse student population.
"I feel that it's more the international students from other countries who make up the majority of BU's diversity," Breaux said.  "I haven't seen as many minority groups represented here."
Gwyneth Jackman, a CAS freshman, said the record-breaking number of applicants shows how diversity is making BU a more popular option for prospective students.
"I think that it means that we're a very diverse school, but I also think that it means that people are recognizing that and so then they're wanting to apply more," she said.
She added that having more students from different backgrounds may be eye-opening to BU students.
"You can learn a lot from international people," she said. "And I feel like by being in an environment that has a lot of people from all around the world, then you're able to learn things that you wouldn't necessarily know from just your small circle of friends. They can open your eyes to new experiences and new ways to look at the world."