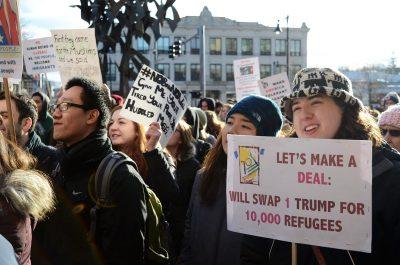 For Ibrahim Rashid, the executive action banning people from predominantly Muslim countries was personal. But when he helped organize a protest at Boston University, he had no idea that more than 250 people would show up in solidarity.
Rashid, a sophomore in the College of Arts and Sciences, is a Pakistani-American whose family still resides in Pakistan. That includes his parents, who he now fears will not even be able to visit him.
"The Pakistani government recently advised all Pakistani immigrants in America not to leave in case a ban does come in place," he said. "I have friends — Pakistani friends — who are doing their doctorate here, who are scared that they will have to leave the country without finishing their work."
Students, professors and other community members gathered Monday afternoon at Marsh Plaza, holding signs with messages including "Refugees are welcome" and "No Ban No Wall."
Multiple leaders from activist groups and Cambridge's first Muslim city councilor, Nadeem Mazen, spoke at the rally. Mazen encouraged attendees to establish a "daily practice" of protest and organizing, even if it's only for five minutes a day.
"If you feel like it's not working, look inward," Mazen said. "The party will not serve you until you bother the party. The government will not serve you until you bother the government. Your friends will not align with you until you educate them about the issues you care about, and seek education about the issues they care about."
Monica Rey, a School of Theology graduate student, read a list of demands for BU's President Robert Brown at the end of the rally.
Brown spoke out against the executive order in a Monday op-ed published in The Boston Globe and in an email sent to the BU community on Sunday, but he has declined to officially declare BU a sanctuary campus.
Students' demands included making BU a sanctuary campus, not allowing U.S. Immigration and Customs Enforcement officers onto campus or providing them information about undocumented students, not allowing campus police to enforce immigration law and providing tuition support to students to keep their legal status granted by Deferred Action for Childhood Arrivals.
"We are not asking President Brown to do anything that our current mayor, Marty Walsh, hasn't done for the citizens of Boston, so the fact that President Brown came out with a statement saying that he can't go in line with us, there's a question to me … if our mayor's behind this, President Brown, why aren't you behind this?" Rey said. "Put your money where your mouth is."
Stephanie Houten, a senior from Massachusetts College of Art and Design who attended the rally, shared Rey's sentiments about President Brown.
"I know that BU students have been getting a lot of pushback from their administration for doing stuff like this, so they need our extra support because they're fighting with an administration that refuses to comply with what they need," she said.
Houten said she found out about the rally through the Boston Student Coalition, a network that formed following the election to help student protesters from various Boston campuses support each other.
Following the speeches, protesters marched down Commonwealth Avenue to the Questrom School of Business before returning to Marsh Plaza to continue the rally.
For some students, the rally was about showing solidarity, even if the administration's policies they were protesting do not affect them directly.
Victor Vuong, a freshman in CAS, said he wanted to continue the momentum he felt after participating in the Boston Women's March for America.
"Organizing is really important," he said. "So is policy, but this is really important to show who might feel oppressed or the country that they were raised in, and the one they know, they don't feel like they belong anymore."
Divya Makkapati, a sophomore in the Sargent College of Health and Rehabilitation Sciences, said she wasn't exposed to activism in high school, but realized how important it is in college.
"[I]t's one thing to talk about it, but it's another thing to take part in movements like these that can actually create change," she said. "If we don't create the change, it's not going to come."
Makkapati said students should continue to take action after the rally.
Rashid offered some tips for students hoping to get involved, such as following prominent Muslim activists on social media and talking to Muslim friends.
"Be there to support them," he said. "If you see one of your Muslim friends on campus, please just reach out to them and ask how they're doing. We're all putting out a strong face, but on the inside we're all struggling getting through the day. Friendship is so important."