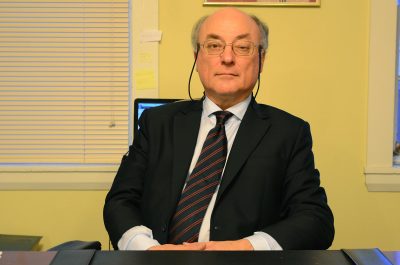 Houchang Chehabi, an international relations professor at Boston University, said that due to his criticism of Iranian government, its security has issued him warnings of arrest if he should travel to Iran.
After President Donald Trump issued an order Friday to ban citizens from seven predominantly Muslim countries from entering the United States for 90 days, Chehabi, already singled out by his native Iran, said he now feels singled out by the United States as well.
"I'm sort of discriminated against in both countries of which I have the citizenship," said Chehabi, who holds dual citizenship of the United States and Iran. "I can't visit [Iran because] I'm a citizen of the United States, and I'm being singled out [here] because I'm of Iranian background."
BU has approximately 100 students and 16 scholars from the countries listed in Trump's executive order, BU spokesperson Colin Riley said.
"Fortunately, no students or scholars were detained, refused entry, returned home or had their visas canceled," Riley said.
Although the order hasn't had an immediate impact, Managing Director of BU's International Students and Scholars Office Jeanne Kelley said the bulk of its impact is yet to be seen.
"We don't have anyone that's stuck at an airport right now," Kelley said in a Tuesday town hall regarding to the order. "But that doesn't mean by any means [that the order] has not impacted our community."
Kelley said it is already obstructing both academic and personal plans of students from the afflicted countries.
During the town hall, Dean of Students Kenneth Elmore urged concerned students to reach out to resources on campus, namely the ISSO.
"You should not face the anxieties you feel alone," Elmore said. The university will be holding more information and Question and Answer sessions in the near future, Elmore added.
Many students said they already feel the ban adversely affecting them.
Raya Bidshahri, a junior in the College of Arts and Sciences, said she originally came to the United States to innovate and make a difference, but in the wake of the ban, she says her plans may change.
"I traveled across the globe, brought my intellect, abilities and financial resources to the United States so I can contribute to this country in a way that I couldn't anywhere else," Bidshahri said. "I'll take my entrepreneurship dreams elsewhere …  and make a difference somewhere else in the world."
Bidshahri was born in Iran, raised in Dubai and has studied in Boston for the past three years. Because of the order, her family will not be able to come see her graduate this May.
Parham Radmanesh, a second-year student in the Henry M. Goldman School of Dental Medicine, said, as a Canadian and Iranian dual citizen, he feels his education may be in jeopardy.
"I feel that my education and future is at risk," Radmanesh said. "I worry that if I leave the country to visit Canada or vacation that I would not be able to enter the U.S. to finish my dental degree."
Pardis Alizadeh-Shabdiz, a senior in the College of Communication, said her primary concern is her family in Iran. Although many of her family members have green cards and others are in the process of obtaining one, they are all now at a standstill in Iran.
"One of my biggest dreams was to see my family from Iran come here, and that has just been taken away from me," Alizadeh-Shabdiz said. "This has happened only one week into [Trump's] presidency, so I am terrified for what else could happen to me and my family."
Administrators and faculty in the BU community have reacted to the order, including BU President Robert Brown, who emailed students on Sunday regarding the university's position on the order.
"We believe this Executive Order is fundamentally inconsistent with the values that are the bedrock of Boston University and, indeed, of our pluralistic, welcoming society," Brown stated in the email. "As an academic community, we must stand together to support each other at this time of uncertainty and use a clear voice to affirm our principles and voice our deep concern."
He also advised anyone who may be affected by the order against traveling outside of the United States.
Several BU faculty have signed the nationwide petition: "Academics Against Immigration Executive Order," which protests Trump's travel ban.
Virginia Sapiro, a political science professor, said she signed the petition with hopes it would comfort those who were shaken by the order.
"I hoped it would give heart to the many people affected directly and indirectly to show them that people care," Sapiro said. "I hoped it would also give heart to those who are growing fearful that they could get hurt by speaking out or acting."
Sapiro said she is cynical about whether the petition will translate into positive change.
"I don't think the Trump administration will care what thousands of scholars and scientists think," she said.
Anthropology professor Joanna Davidson, another signee, said it is imperative for people to resist the order.
"We have to do everything we can — sign petitions, march in protest, rally at airports, pressure our legislators, support those members of our community who are most vulnerable and conduct other forms of direct action — to register our opposition to [the order]," she said.
The Arabic Society of BU issued a statement on Facebook condemning the order.
"We are firmly against the ban and are disappointed that the U.S. government would implement such a xenophobic policy," Yasmin Younis, a junior in CAS, said on behalf of the executive board. "Our identities are being attacked."
Lul Mohamud, the Islamic Society of BU's Sisters Religious Chair, said the society would not let this order hamper them.
"We will not allow [the order] to demonize the peaceful and faith driven Muslims and dedicated citizens of this great city and great country," the CAS sophomore said. "We promise to you all that our mission will not be hindered and our message shall never be silenced."
On a personal note, Mohamud, who is Somali-American, said she is devastated for her family members in Somalia who are struggling to obtain U.S. citizenship.
"I was heartbroken knowing their suffering will not see an end anytime soon," she said. "I felt a pain that I couldn't explain to anyone who was not an immigrant."
BU Student Government Vice President of Finance Justin Flynn said SG will try to show their support for affected students and help them take action within the university's guidelines.
"I think our role [in SG] is to ensure that students' concerns are relayed to the administration of the university," Flynn, a junior in the Questrom School of Business, said.