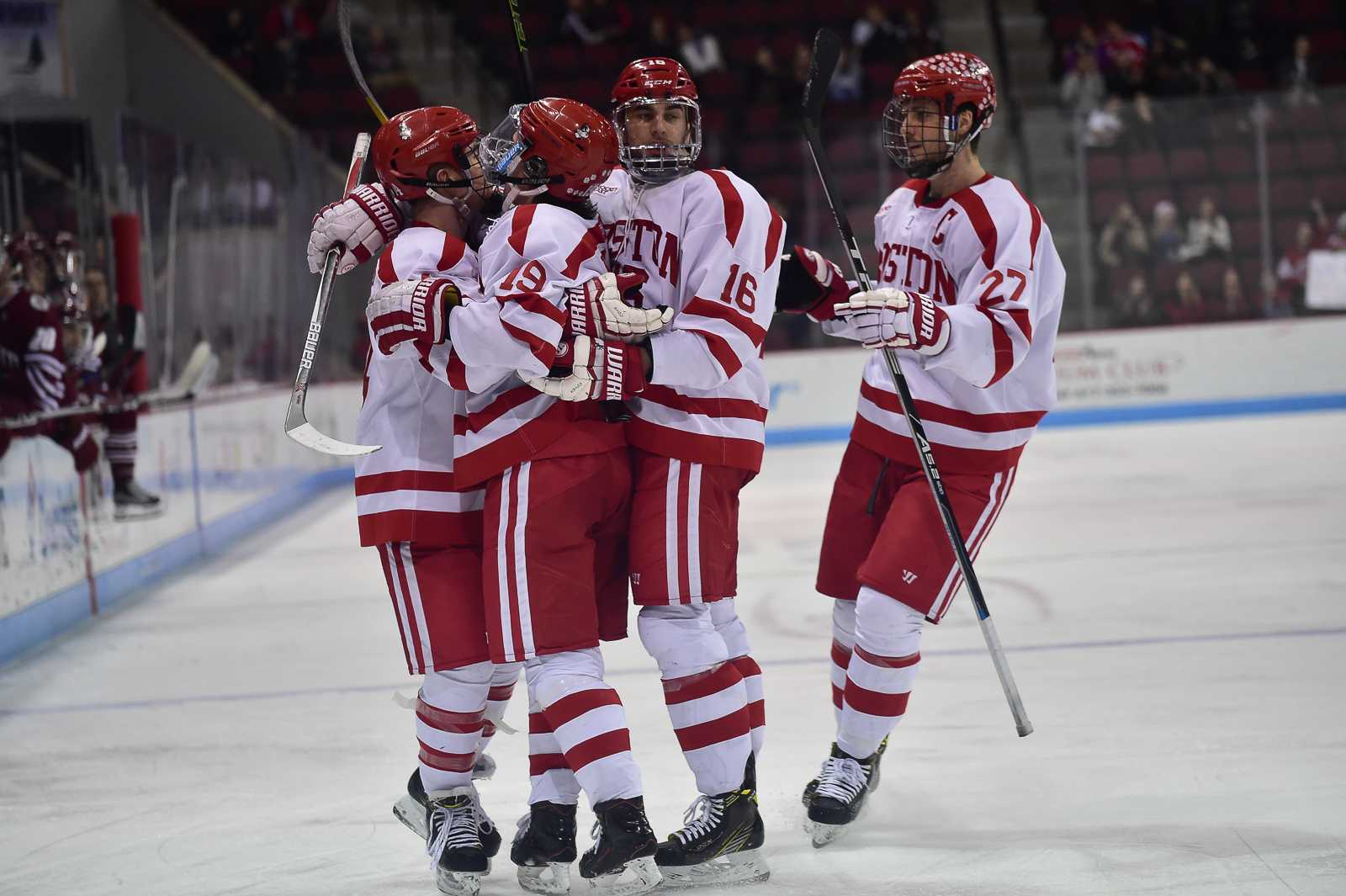 Two weeks ago, the No. 3 Boston University hockey team was on top of the world, as both Quinn and players have put it. A sweep of rival No. 8 Boston College and University of Maine capped off an eight-game win streak: the longest in the nation at the time.
That all came to a screeching halt when the the Terriers (18-7-2, 11-4-2 Hockey East) were defeated by Merrimack College. Twice.
Since then, BU looked itself in the mirror and reevaluated its game. The Terriers battled against the University of Massachusetts Lowell last Saturday, coming out on top, 4-2. They then looked even more like their old selves in Friday's 3-1 win against the University of Massachusetts Amherst.
The Minutemen (5-21-2, 2-13-1 Hockey East) have dropped 14 of their last 15 contests, so the win may not have been as special as the previous sweeps against the Eagles and the Black Bears, but the Terriers needed it to restore their confidence.
Freshman forward Clayton Keller, who ended the night with one goal and two assists, extended his point streak to 14 games. He said after falling hard from the high, his team's morale is climbing back up.
"I think we're pretty high up right now," Keller said. "We had two points in the league tonight. Got the biggest game of the year coming up on Monday. I don't think anyone is down right now."
Keller has consistently scored regardless of wins or losses, posting 29 points in 19 games. The entire roster was in full swing on Friday putting up 45 shots, 19 being on the power play.
On the other end of the ice, the defense made life easy for freshman netminder Jake Oettinger. Freshman defender Dante Fabbro led his team with three blocked shots. The Terriers had 10 on the night. They also went 5-for-6 on the penalty kill.
No one had a notably bad game, but head coach David Quinn said there were still things to be worked on such as staying out of the box.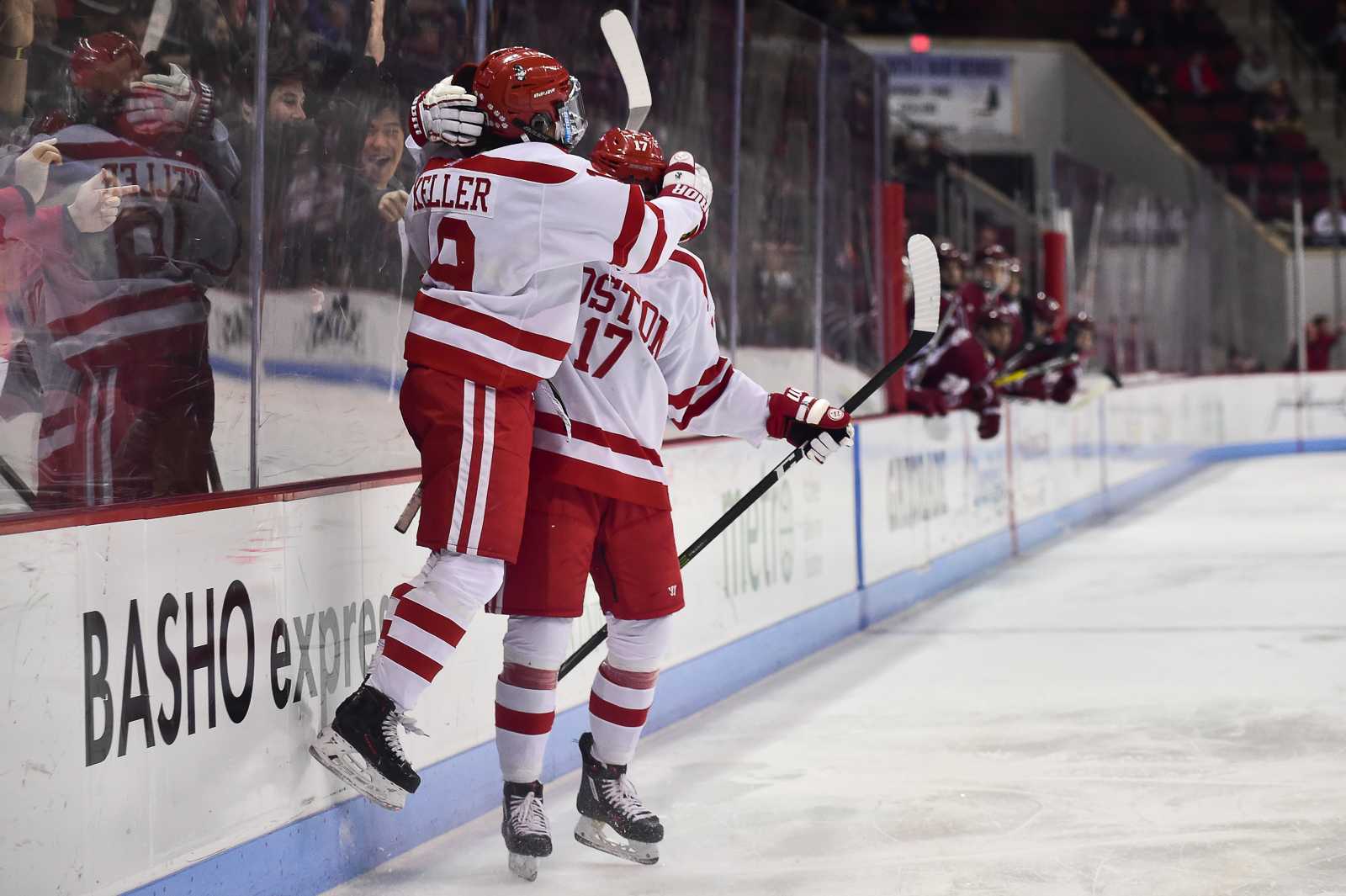 Quinn added that his team has definitely recovered from its slump.
"We aren't even thinking about what happened last week," Quinn said. "We've played two games since and won two. Now we're looking forward to the big big game on Monday night."
Quinn was referencing how BU will take on BC this Monday in the Beanpot Tournament, adding that coming off a win means a lot.
"You want to feel good about yourself," Quinn said. "Winning always helps that. We know what's in store for us. When BU and BC get together it's high-paced hockey. It's competitive and it's physical."
Boston last won the Beanpot in 2015. They went into that semi-final game coming off a 9-5 win against UMass. They lost to the Eagles, 1-0, last year in overtime, so a lot will be riding on 2017's semi-final game.
Gaining confidence is one challenge, the next is maintaining it. Keller, who is becoming an expert on staying calm while staying hot, said the key is to go into every game the same way.
"I think our team is really going in the right direction," Keller said. "And that we're going to play our best hockey game on Monday."