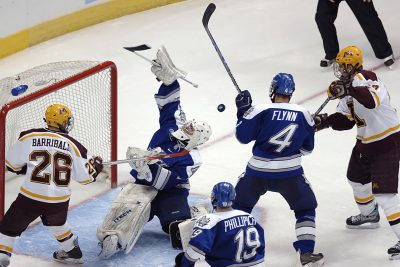 For the month of February, the NHL, NHLPA and the league's member clubs are partnering up to help promote inclusion for all in the hockey community.
The You Can Play initiative was founded by Patrick Burke, who is a former scout of the Philadelphia Flyers, and his brother Brian Kitts. Brendan Burke, Burke's brother and Kitts' son, came out as gay in the 2009 when he was serving as a student manager for Miami University's men's hockey team. Brendan came out with the help of John Buccigross, who wrote an article for ESPN to break the news. Brendan fought to end homophobia in hockey before tragically dying in a car accident when he was 21.
You Can Play has three main initiatives: ensuring equality for people of all sexualities and gender identities, giving athletes a fair opportunity to compete and be judged only for what they contribute to their team, and challenging the culture of locker rooms by focusing only on an athlete's skill and work ethic.
Each team has selected an ambassador for the "Hockey is for Everyone" initiative to show the openness of the hockey community. Everyone should be able to enjoy the game regardless of socioeconomic status, ethnicity or sexuality. This month is only the start.
Goalies start dieting
In an effort to increase goal scoring across the league, goaltenders will now have to wear more streamlined pants, effective Feb. 4. And the NHL has loaded up on ammunition to enforce it. If a goalie is not wearing pants that comply to the new guidelines, he will face a two-game suspension, the team will be fined $25,000 and the equipment manager will be fined $1,000.
A mid-season change is surely controversial, and has some vocal objectors. Arizona Coyotes goalie Mike Smith, who is in the midst of a comeback season, said "it makes no sense to wear pants that you feel vulnerable wearing."
Chicago Blackhawks backup Scott Darling feels "[goalies] are pretty much being punished for getting better at [their] position."
A smaller goaltender, Sergei Bobrovsky of the Columbus Blue Jackets, has said he feels comfortable in his new equipment, which he has been using since December.
We may see this rule change affect different styles of goaltending. Darling and Smith are both bigger goalies who use their size in combination with precise position to backstop their teams. Bobrovsky is much smaller, and uses his speed to make up for his lack of stature. Logically, it seems that more streamlined equipment would help goalies who use speed more than those who rely on their size. If this is the case, I'm sure we will hear more of it from the giants patrolling the crease.
Games of the week
Thursday, Feb. 9: New York Islanders @ Philadelphia Flyers 7 p.m. ET on NBCSN
Long-time rivals fighting for the last spot in the Eastern Conference playoffs, the Flyers have points in five of the past six games, and have maintained the last wild card in the Eastern Conference with games in hand. The Islanders need to start collecting some wins consistently if they want to make the playoffs and keep superstar and pending free agent John Tavares happy.
Friday, Feb. 10: Tampa Bay Lightning @ Minnesota Wild, 8 p.m. ET on NBCSN
The Lightning have certainly caught a terrible injury bug, but any opportunity to watch the Wild is a treat. Newcomer Wild coach Bruce Boudreau has to be the leading candidate for the Jack Adams trophy for best coach.
Saturday, Feb. 11: Chicago Blackhawks @ Edmonton Oilers, 10 p.m. ET (Local broadcasts only)
Any time you get to see Connor McDavid and Patrick Kane go at it is an absolute treat. It is the seasoned vets against the peach-fuzz-faced young guns and the ceremonial passing of the torch in the Western Conference.
Sunday, Feb. 12: Montreal Canadiens @ Boston Bruins, 7:30 p.m. ET on NBCSN
One of the oldest rivalries in sports, the Habs are clearly on another level than the Bruins, but in this kind of rivalry, records are irrelevant. Carey Price is still the best goalie in the world, but Tuukka Rask has kept the Bruins in contention this season.
Monday, Feb. 13: New York Rangers @ Columbus Blue Jackets, 7:30 p.m. ET on NBCSN
This is a potential playoff matchup between two exciting teams. You know Columbus coach John Tortorella will be bringing the intensity against his former team. The Rangers have one of the best skating teams in the league and score goals with their legs.
CORRECTION: The game times of Tampa Bay Lightning @ Minnesota Wild and New York Rangers @ Columbus Blue Jackets were misstated in a previous version.