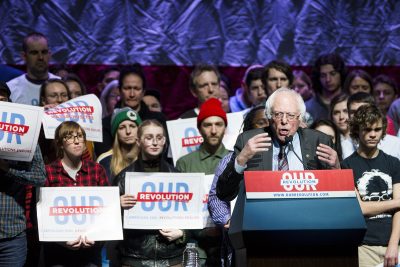 Sen. Bernie Sanders (I-Vt.) and Elizabeth Warren (D-Ma.) delivered a clear message to a roaring crowd of more than 1,600 people on Friday night at a rally at the Orpheum Theater."We've got to be in the fight if we're going to win," Warren told the audience.
The pair laid out a progressive agenda in resistance to President Donald Trump's presidency at a rally hosted by Our Revolution Massachusetts, a political action organization dedicated to furthering the goals Sanders outlined during his 2016 presidential campaign.
Staying true to his presidential campaign message, Sanders hit heavily on appealing to the working class and advocated for increasing the minimum wage to $15 an hour, calling the federal minimum wage of $7.25 "a starvation wage."
"I don't want to hear any more talk about family values from our Republican colleagues until we pass universal, affordable child care for every family in this country," Sanders said. "We want an economy that works for people — not an economy in which people are forced to give up their humanity, to sacrifice their kids in order to make a living."
Sanders also announced plans to propose legislation on Monday to make all public colleges and universities tuition-free, paid for with taxes on Wall Street investors.
"Regardless of their incomes, [people] will be able to get a college education and make it into the middle class," Sanders said.
While he attacked Trump and "the top one percent," Sanders addressed the stigma on Trump voters.
"Some people think that the people who voted for Trump are racists, sexist and deplorable homophobes," Sanders said. "I don't agree … it wasn't that Trump won the election, it was that the Democratic Party lost the election. Let us understand what's going on — it's not just the White House that they won."
Sanders said the restructuring of the Democratic Party is "long overdue."
"We need a Democratic Party that is not the party of the liberal elite … we need a party that is a grassroots party where candidates are spending their time talking to people, not spending their time raising money," Sanders said. "The Democratic Party can no longer afford to be a party of New England, a party of the West Coast. We've got to be a 50-state party."
Warren began her speech by saying that it had been one week since "the biggest assault on healthcare in this country ever," referring to the attempted Affordable Care Act repeal, which was canceled last week.
"We got organized after the election," Warren said. "What we started pushing is you can't repeal and run — that's for cowards. You've got to repeal and replace."
Warren also said the party needs focus, instead of becoming fixated on the smaller actions the Trump administration takes.
"The next time you do a fact-check and find out he hasn't told the truth, that is no longer a newsflash," Warren said. "We stay focused on what they are doing to American families."
Warren spoke against recently proposed Republican bills that attempted to loosen Occupational Safety and Health Administration regulations, to allow internet providers to sell personal data and to repeal Social Security.
"Make no mistake, Donald Trump and the Republicans are working together," Warren said. "And what they're working for is an extremist right-wing agenda that works for billionaires, that works for giant corporations, that works for the fringe of their party, but it does not work for America, and that is why we're in this fight."
Her vision also included decreasing student loan debt, creating a living wage for workers, as well as strengthening Social Security, universal health care, immigration reform, women's health care accessibility and Wall Street regulations. All of these statements were met with applause, cheers and standing ovations from the crowd.
Several audience members shared their support for both speakers and the changes they advocated for.
Robin Bergman, 61, of Arlington, who has been following Sanders since he was the mayor of Burlington, Vermont, said she took Sanders' message about the need for change in the Democratic Party to heart.
"I would like to see the Democratic Party open up to new people," Bergman said. "It's become kind of business as usual, tied to the big money class. And I'd like to see it return to the FDR-type of party."
Patricia Jehlen, who is a Massachusetts senator, said the rally gave her hope that people support a progressive agenda.
"Seeing all the people here, so enthusiastic made me feel especially hopeful that people support the visions that we heard about," Jehlen said. "I don't think we're going to get it right now, but if we don't have a dream, we're not going to make it come true."
Dera Silvestre, a sophomore in the College of Communication at Boston University, said she enjoyed the rally's message.
"It was revitalizing," Silvestre said. "It was really good to hear and nice to be reminded that other people feel the same way."