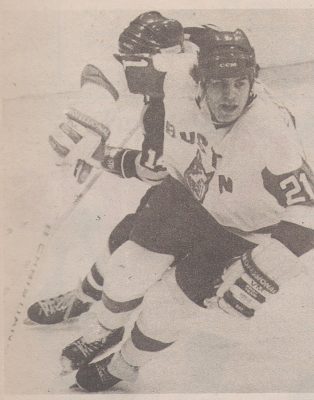 With 10 minutes left in the game, the score was knotted at 3-3. But it was more than just a game. This was United States playing the Soviets in the midst of the Cold War during the 1980 Winter Olympics. For 8,500 spectators in the Olympic Fieldhouse and 20 young men playing hockey for coach Herb Brooks, each moment was breathtaking.
Mike Eruzione had just entered the ice. After a feed from one of his teammates, the 25-year-old captain of the American team fired the puck past the Soviets' back up goaltender Vladimir Myshkin. He gave his team a lead it would not relinquish.
Looking back at the goal, Eruzione reflects with the unmistakable attitude of someone who's been a team player all his life.
"For me, you know, I was able to do something to help our team," he said. "Throughout the game, everybody did things; Mark Johnson made big goals, Jimmy Craig made good saves, everybody made plays. So, I was fortunate to have the chance to do something and it went in."
What Eruzione and his team did was dubbed a miracle. A miracle on ice, more specifically. The iconic words, "Do you believe in miracles? Yes!" said by Al Michaels, forever changed the course of Eruzione's life. But what happens after accomplishing such a feat?
His initial reaction, just like everyone else watching, was disbelief.
"We beat the Russians. We beat the Russians," he thought after the final 4-3 score showed before he returned to the excited and chaos-filled locker room.
The following day, coach Brooks flipped out. Unbeknownst to many, if the United States had lost the next game against Finland, it would've placed fourth and not earned a medal that year.
"[Brooks] needed to bring us back down to Earth," Eruzione said. "He needed to get all that energy out of us cause we had another game to play Sunday … We didn't go to the Olympics to win one game, we went to hopefully win it all."
Brooks had them skate one of the hardest practices of the year, albeit the most remembered was after their game against Norway.
In one of the most popular scenes in the 2004 Disney movie "Miracle," a breathless Eruzione yells, "I play for the United States of America," which made Brooks decide to finally end their torturous post-game skate.
Eruzione revealed the scene was only for movie finesse to show his eventual leadership of the team. In reality, the drill ended when a player smashed his stick against the boards.
"And Herb said, 'If I hear another goddamn stick smash against the boards, you'll skate 'til you die,'" Eruzione recalled. "We continued to skate and then he brought us in and we had to play Norway the next day again and he said, 'If you play this way again tomorrow, you'll skate again.' And we won 8-0 the next day. That should've been in the movie."
While the movie shows the U.S. team eventually earning their gold medals and Eruzione currently working at Boston University as the director of special outreach, it does not show Eruzione himself.
Following the Sunday win, Eruzione returned to the three-family home he grew up in. After accomplishing a miracle, he didn't feel like any type of god, but missed the teammates he had been with for the past year.
"We were really close-knit," he said. "Herb was demanding and hard to play for, but that's how coaches coached. My coach here at the time was Jack Parker and Jack was very intense, in your face type of coach so you really relied on your teammates. I think that's what kind of got us through the [Olympics], just being together."
The next day, he was ready to board a plane to New York City to go on Good Morning America where his professional career would take off.
While Eruzione was no longer an amateur player for the Toledo Goaldiggers and had stopped his summer job as a bridge painter, he remained unsure of what was to come.
"You went from an ultimate low to the ultimate low," he said. "Then now you get back high again because you're doing things you never did before: flying first class, going to Hawaii, going to Florida. I went to California, I had never been to California in my life, so all of these things were happening [and] the energy level got right back up there again."
He and six other teammates were the only members to not go to the NHL, and he stands by this choice.
"Peace of mind was always important to me," Eruzione said. "If I was 20 or 19, I would've kept playing. I was 25. I probably would've been an average player and played about four years, which is about the career for an average player. There wasn't a ton of money. It's not like there was big offers and I just thought it was time to move on and do something else."
Eruzione went on to do more public speaking as well as broadcasting for the NHL and Olympic games before he ended up back at his alma mater, where he got a job to provide for his three children.
After meeting with John Silber, the president of BU at the time, a position was created for Eruzione, which he has held for almost 20 years.
"Every day's kind of a different day, and coming in here now that the hockey season's over, I won't be going to practices or anything, but I enjoy meeting with the student-athletes," he said.
Above it all, he cites family as the most important thing in his life since the time they supported him in his college hockey days at BU.
Eruzione means "eruption" in Italian, and Eruzione has always felt a special connection with his large Italian family. He remembers bringing the Canadian players to his home for dinner so he could take their two home game tickets and give them to his family members.
"Without family I don't know how you live," he said, looking at one of the many photos of smiling family members on his office desk. "I'm glad I wasn't an only child because it was great having my four sisters and a brother and cousins all around. It made me a stronger person. It made me a competitive person because we had to compete against each other, but I would say that's the one thing that I care the most about."
While many will remember Eruzione for the U.S. team's miracle-working in 1980, he hopes he will leave a different legacy to those around him.
"I think it's important that my life's more than one hockey game or more than the Olympic games," he said. "People are going to remember me not because we won a gold medal, I hope. I want them to remember me as a respectful, caring friend and … somebody that worked real hard to accomplish his goal and is a good family guy."
CORRECTION: A previous version of this article mistakenly stated the 1980 Winter Olympics took place in Moscow. It took place in Lake Placid, NY. We regret making the mistake.