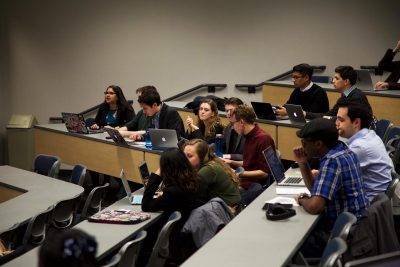 By Noor Adatia and Caroline Hitesman
The Boston University Student Government Senate approved a budget proposal Monday night allocating $3,000 to the Commonwealth Consulting Group, a resource for students living off-campus who require legal representation. This proposal also established CCG as an SG standing committee.
The $3,000 would go toward marketing costs and travel expenses to client sites and law firms, CCG President Jamell Sirleaf said. The work done by the student-run organization is pro bono to help off-campus students find affordable legal representation.
"We have thousands of students every year who are getting into legal trouble, who are getting duped by landlords or paying extra," the College of Arts and Sciences junior said during the meeting.
An off-campus student can present a legal case and a member of CCG will work with a lawyer for the duration of the case, Sirleaf said.
"What [lawyers] provided us with basically is the opportunity to shadow that person throughout the process so if you're interested in law, you get a chance to be an intern," he said.
Money from SG would enable CCG to reach out to students through marketing, Sirleaf added.
"I think it's all about the marketing," he said. "If you've ever seen small business or something that needed growth first and foremost."
The $3,000 budget will be earmarked from next year's budget and will be distributed evenly with $1,500 for each semester.
Senate Chair Dan Collins said he thought CCG was a valuable resource for BU students.
"I think CCG is an excellent standing committee," Collins, a junior in CAS, said after the meeting. "I think we'll be way better off having it. It's a great resource. I'm glad that it's available to everyone now through marketing."
Senate also approved a budget proposal of $5,000 for the Environmental Affairs Cabinet committee that would fund a charter bus trip for students to go to Washington, D.C. on April 29 to attend the People's Climate March. The budget proposal was presented by Rachel Eckles, a representative from Divest BU and Bradley Miller, a representative from the Environmental Affairs Cabinet committee.
Forty BU students have already expressed interest in taking a bus to D.C. for the march, Eckles said. Seats will fill on a first-come, first-serve basis. There are a total of 55 seats on the bus.
In order to ensure interested students will show up for the bus trip, SG amended the proposal to require any students who sign up to pay a $20 fee beforehand to reserve their seat on the bus. The proposal passed unanimously.
SG also passed a proposal brought forth by SG President Jake Brewer to create a Board of Trustees Oversight Committee.
The goal of this committee is to increase transparency between the Board of Trustees and students, with a main goal for students to have a voice in some of the university's bigger decisions, according to Brewer's proposal.
After discussion among senators, the proposal was amended to create a new executive board position to sit in on these meetings along with the executive vice president. The proposal passed unanimously.
Collins said he was happy to see this proposal pass.
"I truly hope Jake is able to negotiate with the Board of Trustees and President [Robert] Brown and get some sort of student representation on that board, even if it's just observation," Collins said after the meeting. "I think it's really important that we hear what's going on in there and that it's disseminated to the students."
The meeting concluded with four changes to the constitution presented by the Rules Committee, only two of which were passed due to the absence of all four executive board members.
Collins said he thought the meeting was productive.
"I'm impressed that it went quickly and efficiently, and we were able to get through everything on the agenda," he said after the meeting.
Vice President of Internal Affairs Jane Dimnwaobi said she thinks this semester has been productive for SG so far.
"One of our goals was to increase student engagement, and I think that we did that," Dimnwaobi said in a phone interview with The Daily Free Press. "We think that we have highlighted issues that are more pertinent to students in addition to running our regular events about cabinets, the environment and just general dorm life. It has been good to really hit on the hard topics like tuition and general politics just forcing them into the conversation and letting a lot of students know that we want to focus on that stuff, too."
After the meeting several senators said they think the CCG is a great resource for students.
Rebecca Buchholz, a College of Communication senator, said she thinks CCG could help her friends who are having trouble planning off-campus housing for next year.
"I think it's definitely an interesting resource and I'm so glad that it's going to be more available for people," Buchholz said.
Lauren Blackburn, a COM senator, said CCG could help those off-campus students, who are often disregarded.
"I think it's good we're allocating a certain committee to represent off-campus students in addition to give them legal help they might not be able to afford," Blackburn said.
Maya Reyes, a CAS senator, said she thinks the amendments passed in SG this year have been progressive.
"I think that changes to the government are always good," Reyes said. "[Many have] been in the progress since last year, so it's time for these amendments to get approved."