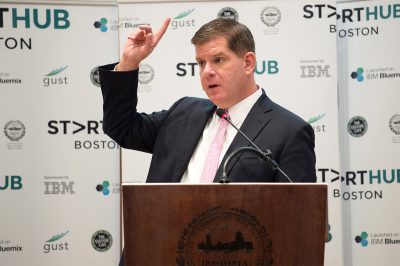 Boston Mayor Martin Walsh introduced a new $3.14 billion fiscal year budget proposal for 2018 on Wednesday, according a press release from Walsh's office.
The multibillion-dollar plan would result in a $143.7 million increase from this year's total budget and would focus finances on strong fiscal management, education, housing, safer streets, health and safety, among other enhancements that would improve the quality of life for Boston residents, according to the release.
The budget includes significant supplementary funds for organizations such as the Boston Public Health Commission, as well as funds supporting homeless shelters and rehousing programs that give homeless people, veterans in particular, an opportunity to acquire permanent housing, according to the release.
Katie Hammer, the budget director for the city, said rapid rehousing for the city's homeless is essential.
"Often, someone comes into the shelter system trying to quickly look at opportunities to get them rehoused as quickly as possible rather than having them settle into the shelter system," Hammer said. "It's important to have a good shelter system, but we also want to make sure that people are in permanent housing."
The proposal also includes a $1.061-billion budget for Boston Public Schools, sanctioned by the Boston School Committee, the institution governing BPS. The budget for BPS is expected to increase to $1.081 billion upon the implementation of collectively bargained cost increases, according to the release.
Hammer said the financial plan stresses research-driven reforms, including an emphasis on educational investments.
"A great example is our investment in extended learning time for students at Boston Public Schools." Hammer said. "We're investing 14 million to provide 15,000 more students a longer school day. These investments, especially our investments in education, are important. We have other investments in education as well, for example, adding pre-kindergarten seats. These are research investments that are proven to close opportunity in achievement gaps."
Tommy Chang, the superintendent of BPS, said in a statement the budget proposal supports students and sides with Boston's principles.
"This $1.061 billion budget, the largest in BPS history, is a sustainable financial plan that aligns with the district's core values of equity, coherence and innovation, and helps ensure that every student has an opportunity to succeed." Chang said.
Change praised Walsh and his administration for their dedication to providing all students with equal opportunities.
"BPS is excited by the commitment of Mayor Walsh … The new and continued investments from the Walsh administration will strengthen the district's mission of closing opportunity and achievement gaps," Chang said.
Several Boston residents said the city should be investing even more heavily in support of both homeless families and education.
Roy Martin, 47, of Dorchester, said Boston is recognized for its education system, which is why investing in schooling is fundamental.
"Boston is known for education, and for good reason," Martin said. "We always put a lot of money towards it, and as a result, we are better for it. So yes, I think we should keep investing in education because that's part of what makes our city so great."
Bridget Galvin, 22, of Brighton, said fixing Boston's homeless problem should be the city's highest priority.
"I think that there is a problem," Galvin said. "I don't see a lot of homeless on the streets, but that doesn't mean that they aren't out there. I recently read that Boston is one of the worst cities in the nation when it comes to homelessness. It's good that the city is investing so heavily in fixing the issue."
Christina Fiore, 27, of Brighton, said homelessness and education are both significant issues in which the city of Boston needs to be heavily devoted.
"Homelessness is most definitely a problem here in Boston, and around the state," Fiore said. "As for education, yes, I do think there needs to be more stress on education. Investing in our youth is one of the best things we can do as a city."