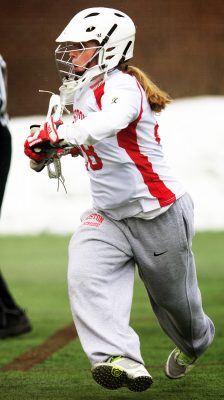 With the regular season winding down, the Boston University women's lacrosse team still has plenty of work to do in order to clinch a postseason berth.
For a third consecutive contest, the Terriers (5-6, 3-2 Patriot League) will be taking on a top-two team in the Patriot League — the United States Naval Academy Saturday afternoon at Nickerson Field.
Navy (9-4, 4-1 Patriot League) is tied with Lafayette College in both overall and league records, and are one game ahead of Lehigh University in the overall loss column.
BU, which is two games back from those three squads, is looking to end a tough three-game stretch with back-to-back wins over the Leopards (9-4, 4-1 Patriot League) and Navy.
The Terriers enter Saturday's contest coming off a 20-16 victory over Lafayette last Saturday in which they led for almost the entire game.
After her team finished with its highest offensive scoring output since a 21-12 drubbing of Binghamton University on April 13, 2013, BU head coach Liz Robertshaw saw the Terriers' performance last weekend as a sign of their continued improvement.
"As a team, we're getting better everyday," Robertshaw said. "They came out and fought and finished the game. We didn't do that a week prior against Lehigh and I feel like through a hard week of practice and in a tough game they did [fight]. They showed up and fought for a full 60 minutes."
The individual performances of junior attacker Avery Donahoe and senior goalie Caroline Meegan also played a huge role in the Terriers' bounce-back victory.
Donahoe finished the contest with a career-high six goals and seven points and was one of seven multi-goal BU scorers, while Meegan stopped a career-high 18 shots.
One week after holding Leopards senior Kirsten Wilhelmsen, the Patriot League's leader in goals, points and shots, to just three goals and six points, the Terriers will have another tough contest against Navy's formidable offense.
BU will face a Navy team that has both the individual and team firepower to cause headaches for its backline.
They are the league leaders in goals (15.54 GPG), assists (7.62 APG), points (23.15 PPG) and draw controls (16 per game) while committing the fewest turnovers (14.15 TPG).
Navy also is led by great individual talents in sisters juniors Jenna and Julia Collins and senior Morgan Young.
Jenna Collins is third in the league in goals (38), tied for eighth in assists (20), tied for second in points with freshman teammate Kelly Larkin (58) and tied for sixth in shots (83).
Julia Collins is sixth in assists (22), ninth in points (47) and fourth in draw controls (59).
Young is fourth in goals (37), tenth in points (46) and second in shots (92).
Robertshaw has stressed to her team that they need to limit the Midshipmen's playmakers, but need to do so by playing on their own terms and within themselves.
"I don't want to do anything differently," Robertshaw said. "I just want them to play consistently. Defensively, we need to slow down some of [Navy's] leading scorers. Jenna Collins, [Patriot League] Midfielder of the Year last year — we need to slow her down. She's leading the team in points."
Robertshaw also pointed out Larkin as competition for BU.
"They also got Kelly Larkin, a solid freshman who's doing some serious points scoring," Robertshaw said. "We need to slow her down. So we do want to have a good day defensively, but it has to be team-first [and] focused."
The Terriers need one more strong effort against Navy before their schedule begins to loosen up.
Following Saturday's game, the Terriers will close out the season against four teams with records under 0.500: the College of the Holy Cross, United States Military Academy, the University of New Hampshire and American University.
If BU wants to see postseason action for a fourth consecutive season, it needs to take advantage of its easier upcoming schedule and know that it still will be a fight to the very end.
"It hurts to win," Robertshaw said. "It's not going to be fun, it's not going to be easy and it's not going to be comfortable if you want to win games and if you want to win a championship. [The coaches and I] have stressed that to [our players]: 'You're going to feel it. You're going to be hurting at the end of the game, but it makes it worthwhile if you win it.'"