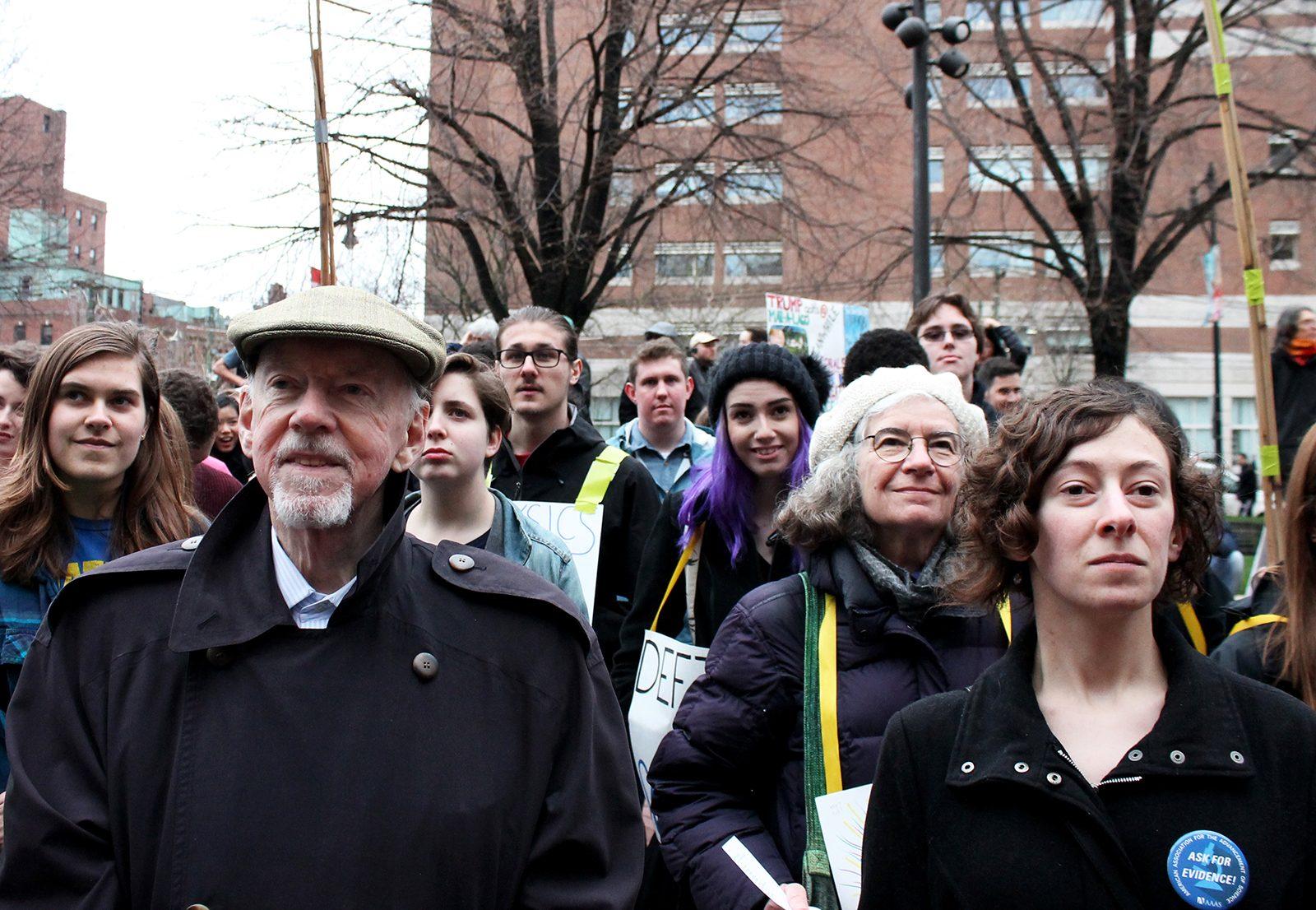 Nearly 100 Boston University students and faculty gathered outside the Metcalf Center for Science and Engineering for the BU March for Science, where they celebrated the role of science in society before joining the greater Boston March for Science on Saturday afternoon.
Third-year Ph.D. student Roland Welter, one of the march's organizers, said he felt the current political climate necessitated campus-wide action.
"We chose to organize the BU March for Science because there is a strong and growing concern among the BU student body that the current political atmosphere has become dangerously out of line with what our best science recommends," Welter wrote in an email before the march. "From the wholesale denial of climate change to the sweeping budget cuts to the [Environmental Protection Agency], [National Institutes of Health], and many other scientific agencies, it's become clear that scientists can't rely on science to speak for itself."
A group of students and professors organized the rally. Welter said the organizers wanted to encourage BU community members across campus to participate and join their cause.
"We want to bring people from all scientific disciplines together and get conversations started about how we can do that," Welter said during the gathering.
He said people came to the rally to join like-minded peers and engage in such conversations.
"[We want] to send a message to the Trump administration that we want policy based on actual facts," he added.
Environmental science professor Diane Thompson, the opening speaker, told a story of her early love for coral reefs and how they fueled her passion to become a marine biologist.
"I march for the hope that we will have reefs in the future and that these reefs continue to protect our coastal populations," she said.
Anne Short Gianotti, an environmental science professor, gave a speech where she touched on the lack of acceptance of science in political spheres.
"What we're seeing is the result of an 80, 90-year campaign to increase science denialism," Gianotti said. "I march for science in defense of evidence."
Gianotti added that these rallies made an important moral statement.
"The pursuit and outcomes of science are guided by morals and values," she said. "Science is political, whether we like it or not. I march today with hope. This is power, and this is hope."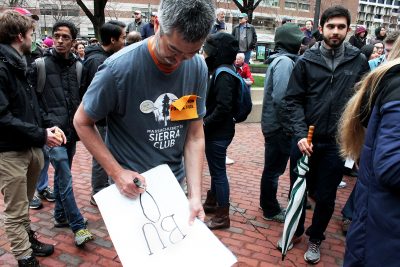 Fourth-year Ph.D. student Sarabeth Buckley, another organizer, spoke about students' growing interest in science and other STEM-related fields.
"I think there's so much potential in science," she said. "We have to be out there, talking and communicating with people."
She commented on the importance of diversity in STEM fields and how it can encourage STEM participation for kids.
Buckley encouraged the crowd to participate in political activism beyond the march.
"Go to your representatives," she said. "Talk to them about our science. If we want science-based policy, we need to start making the policies ourselves … It's time to get out of the labs. We are going to make this a partisan issue. This is the thing science needed: to come out of the shadows."
Following the rally at Metcalf Center, the crowd marched together to the Boston Common to meet up with local university communities holding similar rallies.
Several students at the BU march said they found the atmosphere empowering.
Matthew Garamella, a CAS senior, said he thought the rally was especially timely.
"I feel like under the current political climate, it's important to show that we care," he said. "We won't give up without a fight."
Garamella added that he hoped the march would help get the word out about the widespread concern over the Trump administration's stance on climate science.
"We hope to increase awareness and to put the topic of climate change in people's minds, so we can get legislation going," he said.
Keara Russell, a CAS sophomore, said she and her classmates found the speakers inspiring.
"I came with my psychology lab," she said. "I feel like I'm surrounded by a lot of empowered scientists."
Su Bin Jin, a CAS senior, said it is important that events advocating science acceptance be inclusive for everyone.
"Science is for everyone," Jin said. "It's as simple as that."
Alana Levene contributed to the reporting of this article.