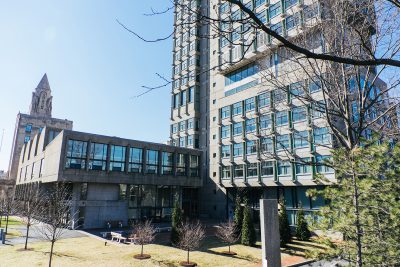 The Boston University School of Law is launching a certificate in Financial Services Compliance this fall, the first of its kind to be entirely online.
James Scott, director of BU Law's Graduate Program in Banking and Financial Law, said this certificate program is designed to take advantage of changes in the financial services industry since the 2008 financial crisis.
"Requirements for compliance officers in terms of the number that would be serving financial institutions increased dramatically, and the quality of what was expected of compliance officers — the professionalism — also increased significantly," Scott said.
He said BU is also seeking to fill a void in this area of expertise.
"We thought there really was an absence of very programs that would try to encapsulate this new professionalism, and since we have 30 years of doing legal education in the financial services area, we thought it would be a useful expansion for us," Scott said. "Coming from an [Master of Laws] or advanced degree in financial services, we thought we would be uniquely positioned to be able to give a broader picture of professionalism now required of compliance officers."
Scott said he saw this as an opportunity for experimentation in online education. Similar BU programs are taught entirely in person, but depending on the new program's success, they might look toward shifting additional programs to the online format.
"This gives us a means of making a first step to analyze what we need to do to keep a quality of education and still get to a wide range of people who don't have to come to campus," Scott said.
The program has been in the works for two years and is designed to have two basic kinds of courses: newly developed online courses and those that tape professors in the classroom for an online audience's viewing.
Scott added that he sees online education not just as a new means of delivering information, but as a necessary step in order to reach a larger audience of people who want to obtain these credentials and knowledge.
"Over time, what we've seen is that the ability of the people who are working in the industry to take a year off and come to campus and spend the time here is available to fewer and fewer people," Scott said. "After you've gone through [a] two or three-year law school program, it's hard to ask for a fourth year."
Barbara-Ann Boehler, one of the adjunct professors who is designing an online course for the fall, said her class will be all about functionality.
"My hope is that we can take some of the core and foundational concepts across financial services … and then kind of weave them in and develop a course that is very practical, because financial services compliance is nothing if not practical," she said.
Boehler said when she graduated over 20 years ago, online courses did not exist, but now, they are becoming mainstream.
"People are so spread out and so busy, and it's difficult to come together," Boehler said. "I definitely think [online courses are] really helpful to the students to be able to complete everything on time and not have to worry about being able to get your time here."
She said her hope is to take advantage of this new class format to try things that might not be possible in a typical classroom setting.
"I feel like we're going to be able to do some things here might be difficult to do in person," Boehler said. "My hope is to get some guest speakers to weigh in for some webinars and some question-and-answer sessions where it might be difficult to get somebody on campus, but they might be able to Skype them in and then get more robust class time."
Several law students said they were skeptical about an entirely online program, but they thought it could be helpful for students who are not able to take classes on campus.
Nicholas LaPalme, a first-year law student, said he thinks online courses might be more difficult to do with law classes than less complex classes.
"[Online courses] might end up being a little different in the context of graduate education because maybe with undergraduate intro level courses it might be easier to just learn it online, whereas [law courses] might be so technical that it's difficult," LaPalme said. "But I don't think it's a bad thing to launch into a new area … It could crash and burn, but it could be good."
Christina Zandri, a second-year law student, said she has not taken online courses at BU herself, but she thinks they could either be helpful or hurtful depending on a student's level of dedication.
"If you're dedicated to actually taking the class, it's great," Zandri said. "Especially for people that are working and just want to get a certificate to get an extra degree, it tends to be good because those people tend to be people that need flexibility and they'll stick to it, whereas sometimes people take online classes just thinking it'll be easy and just go through the motions. It can go either way, but I think it's a good idea for people who really need flexibility and want to learn."
Diego Menendez-Estrada, a first-year law student, said he would not recommend online courses for obtaining a law degree, but he thinks they could work for a specialization.
"If it's just a certificate, I feel like it could be OK," Menendez-Estrada said. "A lot of it is technical, and class experience is important, but if it's just a specialization and it supplements the degree, that's fine."