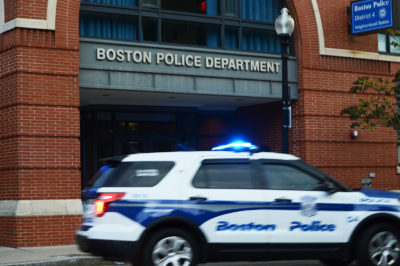 The Boston Police Department officially concluded their body worn camera pilot program, a year-long trial requiring 100 Boston police officers to wear body cameras while on active duty on Tuesday, according to a BPD press release.
The cameras captured over 4,400 hours of footage, more than 33,000 separate incidents of BPD Officers interacting with citizens and an average of 96 videos per day, according to preliminary numbers included in the release.
The treatment analysis, complete cost-benefit analysis and writing of the report is set to be finalized in June of next year, according to the release.
Segun Idowu, lead organizer for the Boston Police Camera Action Team, said having police-worn body cameras would have been invaluable during the infamous Ferguson, Missouri case of 2014, in which 18-year-old Michael Brown was shot and killed by officer Darren Wilson.
"BPCAT has pushed for full implementation since our inception," Idowu said. "We pushed for body cams because it was being discussed at that time that Mike Brown was killed, that if body cams had been available and on Darren Wilson we would have known what actually went down as opposed to hearing one side of the story, since the other side of it was dead."
Idowu said the process of beginning the trial was complicated but that he is hopeful the results will lead to the permanent implementation of body cameras on law enforcement.
"We thought it was going to be easy," Idowu said. "It turned out obviously not to be because of all the dynamics that come into the presence of body cams — not just putting them on and where or when, but also who has access, privacy issues, how you pay for them."
The body camera pilot program was initially intended to last only six months, with full implementation set to follow soon thereafter, but the BPD extended the program by another six months in March, citing the need for more time for data collection and analysis, The Daily Free Press reported.
Rahsaan Hall, the director of the Racial Justice Program for the American Civil Liberties Union of Massachusetts, wrote in an email that he hopes the BPD will cooperate to implement a permanent program to better monitor police work in the city.
"We urge the police department to work with the Boston Police Camera Action Team and other community-based organizations that are trying to bring more accountability to a department that has targeted Black people in nearly 70% of its street encounters with civilians," Hall wrote.
Body cameras can lead to a safer Boston, Hall wrote, thanks to efforts made by citizens in pushing for the pilot program's implementation.
"We are pleased that the pilot program was put into place despite initial push back from the police department," Hall wrote. "With the appropriate privacy protections and a strong policy in place, a fully implemented body-worn camera program can be a step toward doing it right. By remaining vigilant when building constructive police-community relations Boston can be a better city by using technology in the service of liberty."
Several Boston residents said they agree the body camera program should become a constant within the city's police department.
Caitlin Fischer, 35, of Brighton, said the police need to be observed just as citizens are observed by police.
"I do feel like the police should have body cams," Fischer said. "I heard about the pilot program, and I think it's a great idea. The police need to be kept in check just as much as we do, so I think it's important that they monitor that."
Matthew Decker, 44, of Allston, said implementing body cameras would improve the city of Boston.
"You never know what could surface," Decker said. "If this were permanent in Boston, I think it could do good things for the betterment of the city as a whole."
Tracy Rich, 60, of Jamaica Plain, said body cameras should have been worn before now.
"If the police had had body cams in the past, a lot of controversial issues may have come and gone without incident," Rich said. "It would have changed a lot."