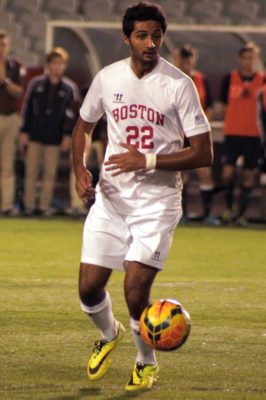 After being shut out in their first five games, the Terriers got on the scoreboard on Saturday in their 1-0 victory over Harvard.

Sophomore Satchel Cortet shot to set up senior Adam Sheikali in Harvard's (1-3-1) box and Sheikali got it past the Crimson's goalkeeper in the 44th minute. Cortet's assist was his first career point. Sheikali's goal ended BU's shutout streak at five games. Which is the longest in program history.
Even though BU scored their first goal, head coach Neil Roberts said that there is work that needs to be done.
"We're not where we want to be yet. We're a young team getting better," Roberts said. "It's just a matter of getting better."
Freshman William Bonnelyche started his fourth game in goal. The Stockholm, Sweden native currently leads the Terrier goalkeepers in minutes and wins.
Roberts said the original plan for Bonnelyche was for him to take a redshirt year, to give him more experience.
"He's young. His distribution is good. He's not there yet, we were hoping to redshirt him," Roberts said. "He is playing and he has a lot of work to do."
Despite his consecutive starts and strong play, Roberts said that he still has not won the goalkeeping competition.
"He's getting there, he's not there yet," Roberts said. "I think we got two kids that are battling out between Mike [Bernardi] and William. We will see what happens."
For Sheikali, an Atlanta native and lone scorer of the game, this was his second career goal and his first in two years.
Starting in goal and making his college debut for the Crimson was freshman Matt Freese.
Freese saved two shots by the Terriers, one from Cortet and one from junior T.J Butzke.
Eric Gylling almost scored a goal for Harvard in at the 12:29-minute mark when he took a 35-yard shot that hit the crossbar and then was cleared by the Terriers.
Bonnelyche's biggest test occurred in the 88th minute when he had to defend a long and high free kick from Paolo Belloni-Urso and then saved a second chance attempt near the top of the box from Christian Sady.
The Terriers defense limited the Crimson to season-low six shots.  
Intensity was obvious in this highly physical game. Players shared heated words numerous times throughout the contest. BU had a total of 17 fouls and Harvard had 11. BU also had four yellow cards to Harvard's one.
"We definitely said coming into this game that enough was enough. If we're going to lose, we're not going to lose by being overrun on our field," Roberts said. "We wanted to make sure that we made a statement that we weren't giving up our turf."
The Terriers will be in action on Tuesday against Princeton but will start Patriot League play on Saturday, Sept. 23 when they travel to take on American University.
The Terriers currently are in eighth place in their conference play but will look to put themselves in a better spot over the next few games.
The Terriers were picked to finish fourth in the Patriot League Men's Soccer Preseason Poll but will look to finish better than that and send Roberts to his 15th NCAA tournament appearance.

Despite this victory, Roberts said there are still improvements to be made. 
"This is just one goal, one game," Roberts said. "We want to get better, and we need to get better by Saturday. This was a good sign, a good battle, a good fight."