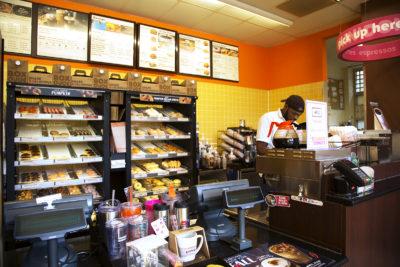 Around 90 Massachusetts economists, including two Boston University economics professors, pledged their support for a $15 minimum wage in an open letter to Massachusetts lawmakers last week.
The economists advocated four annual one-dollar increases to raise the state minimum wage to from $11 to $15 per hour by 2021.
"Workers in Massachusetts who earn the minimum wage today are far behind where minimum wage workers were in past decades," economists wrote in the letter. "Raising the Massachusetts minimum wage […] will be an effective means of improving overall living standards for low-wage workers and their families."
James Rebitzer, a BU public policy professor who signed the letter, said he hoped it would make a statement that states need to take action in areas where the federal government has not.
"We've got a smart, Republican governor, we've got a forward-looking legislature and if enough states take action, that creates some pressure on the Fed to eventually get their act together," Rebitzer said.
He added that he supports an incremental minimum wage increase in order to redistribute wealth to low-wage workers.
"The reliable studies I've seen suggest that raising the minimum wage has at best a very modest effect on unemployment and consequently, it's a reasonable way of transferring income to low-wage workers," Rebitzer said. "In a time of widening wage inequality, that strikes me as a reasonable goal of policy."
Rebitzer also warned that with an increased minimum wage comes the possibility that low-wage workers will lose the benefits provided to them through federal social welfare programs.
"Because the social safety net in America is very skimpy, even at quite low income levels, as your income goes up, you lose a lot of the available benefits – Earned Income Tax Credits, subsidies for health insurance, food stamps," Rebitzer said. "So, if you really want to redistribute income […] you also have to pay attention to making the social safety net more generous and the benefits decline less rapidly with income."
Kevin Lang, a BU economics professor who did not sign the letter, emphasized the potentially negative impact a higher minimum wage could have on low-income Massachusetts residents.
"The concern that I have with the letter that the economists signed is that they're not really thinking about the interaction between the minimum wage and our system of support for the working poor," Lang said.
Lang said that it is difficult to study the long-term effects of a minimum wage increase of this magnitude, and studies in cities that have already increased their minimum wage have largely lead to inconclusive results.
As to whether or not the economists' open letter will impact minimum wage policy in Massachusetts, BU political science professor Spencer Piston wrote in an email that professionals and academics do have the ability to influence policy changes.
"Public engagement of prominent academics is important," Piston wrote. "To be sure, there are many instances in which the requests of academics go unheeded. But in other cases, the voices of scholars have played an important role in changing policy."
Several BU students they support an increased minimum wage in Massachusetts, but think the state should proceed with caution.
Kaelyn Tindall, a sophomore in the College of Communication, cited her own personal experience as a reason why she supports an increased minimum wage.
"From the standpoint of someone who is making above minimum wage and still can't live sufficiently in Boston, it's a good idea to raise the minimum wage," Tindall said. "I think if we're all making enough to contribute, it will allow us to put more into the economy."
Jake Bloomfeld, a junior in the College of Arts and Sciences, warned that with a higher minimum wage comes the threat of increased unemployment.
"The only thing where it wouldn't be a good idea is because the minimum wage is increasing, companies want to lay off more employees because they can't afford to pay them," Bloomfeld said.
Bloomfeld also noted the rise of automation on BU's campus as one way companies are decreasing the number of employees they hire.
"The Target in West has those automatic self-checkouts, which are replacing employees," Bloomfeld said. "It has to be balanced. You want employees who are making a good amount of money so they are able to support themselves and contribute to the economy."
Bridget Watson, a senior in the School of Education, said she expects the Massachusetts legislature to raise the minimum wage because of its Democratic makeup.
"I think it's probably likely because Massachusetts is a blue state and it's a little bit more liberal," Watson said. "I think Boston specifically recognizes that if you want people to get out of poverty, you need to provide them with living wages."