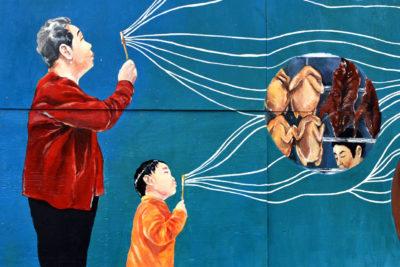 Running and visual arts are seen as being on different playing fields — one valuing endurance and the other valuing creativity. Over the weekend, however, the two came together.
The first annual Boston Art Run sponsored by Runstreet and Clif Bar took place on Thursday. According to the Runstreet website, Art Run was created to encourage runners of all levels to learn about local art and artists in addition to encouraging runners to explore their environments.
The event — which was conceived by running coach and creator of Runstreet, Marnie Kunz — includes a 10-minute mile pace run that allows participants to see a selection of murals and street art within their city.
"Runstreet started as my running blog, but I've always liked street art," Kunz said. "I was posting a lot of street art from my runs around Brooklyn and thought I could organize a run where people could see the art I saw on my runs. We held our first Art Run in Brooklyn about three years ago, and I realized there was a lot of interest, so we started bringing them to other cities."
Kunz said she wanted to use Art Runs to not only merge fitness and fun, but also to find a way for participants to connect to their communities and gain a new sense of appreciation for their cities.
"One thing I overheard in both Boston and New York is that people say they walk past areas everyday and never notice the artwork. These runs raise awareness about what's in your city and the people who work to put it there," Marques Jackson, creative director and photographer for Runstreet, said.
Jackson added that Art Run is important because it gives people the opportunity to venture out of their normal routines and to explore something new.
Sam DePalma, a senior in Boston University's College of Engineering and president of the BU Running Club, said he believes that it's important that runners engage with their communities.
"People often run for personal gain," DePalma said. "They train to finish a marathon, to clear their minds, or to get in shape. However, the communities that form around these individualistic motives result in the most success. When runners engage with their environments, especially in the presence of other runners, it strengthens the running communities within that environment."
Art Run Boston showcased a couple places around the city that were scouted by Kunz and Jackson over the summer. One place was Modica Way — also known as Graffiti Alley — which is located in Central Square in Cambridge. Kunz describes the Modica Way as a "living canvas."
Another stop during the run was a mural in Chinatown's Phillips Square called "Tied Together by a Thousand Threads" — which relays a message about gentrification within that community.
Kunz discussed the importance of "Tied Together by a Thousand Threads" with the other runners. She said she believes it's important that people understand larger issues affecting cities and uses these runs as an opportunity to talk about them.
"The art is important because a lot of the time it addresses issues going on in the community. The political art makes people think about things," Kunz said. "Other times it's fun and lifts your mood. It makes a lot of mundane places look beautiful."
The Mayor's Mural Crew has brought over 250 permanent and temporary public art projects to the city since the initiative began in 1991.
"Boston is such a beautiful city, it almost looks like a curated museum," Jackson said. "There's definitely a cool contrast with the way Boston looks with artwork compared to a place like New York City. It's also nice to see a different demographic and that different energy shows up in photos."
Runstreet will holding Art Runs in Chicago, New York City and Miami over the next three months.
"These runs raise awareness about artists and the meaning behind community art," Jackson said. "They also change the routines we get stuck in. They make your city larger."