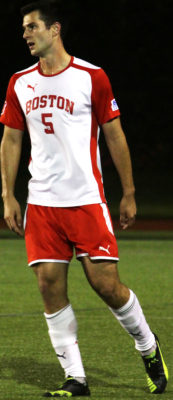 After a rough start to the season that saw the Boston University men's soccer team scoreless after five competitive games, the Terriers (3-6-1, 2-0 Patriot League) have seen their offensive fortunes change with a goal in each of their last five games and four positive results in those five tilts.
BU, home after its longest away stretch of the season, will take on the College of the Holy Cross in a midweek battle for the Turnpike Trophy on Wednesday.
The Terriers own an 11-2-0 advantage in a rivalry that dates back to 1967.
BU's weekend game against Lehigh University left the Terriers with their third shutout of the season after sophomore midfielder Mana Chavali got on the scoresheet for the first time this year and freshman midfielder Toti Knutsson tallied three points in his best game of the season.
Knutsson was subsequently named Patriot League Rookie of the Week on Monday after posting a goal and an assist, and now leads the team in points with five.
However, when asked who he expects to step up against Holy Cross (3-4-2, 1-0-1 Patriot League), BU head coach Neil Roberts said he isn't expecting just one standout performer.
"You don't know," Roberts said. "It's a very physical game. Last game it was Tito and Mana. You hope it's somebody different, whether it's Nick [Wieners] or T.J [Butzkee] or Jerry [Ozor], it doesn't really matter."
Due to an unfortunate injury crisis that left senior midfielders David Amirani and Anthony Viteri sidelined, freshman midfielder Peter Kargbo and freshman back Elias Lampis are the only two Terriers to have started all 10 games.
After coming in for injured freshman goalkeeper William Bonnelyche, sophomore goalkeeper Michael Bernardi has played impressively after starting in the net for BU's last three contests and earning two shutouts in those starts.
For Roberts, he said the key focus for the Terriers should be their back line.
"We hope that we can come out strong and again if we can limit our mistakes in the back," Roberts said. "We have done this in the last few games and we've been much better. The big thing for us is to not create opportunities for the other team. If we can limit that, I think we'll be okay."
After going 0-6-2 last season on the road, Holy Cross will look to its leading goal-scorers senior forward Arno Rupp and junior back Owen Azrak, who have two goals apiece, for some offensive spark against their in-state rivals.
The Crusaders are also in the middle of a three game winning streak after shutting out Northeastern University and Lafayette College, and tying the United States Naval Academy in double overtime.
Despite these challenges, Roberts expects the battle of the game to live in the center of the park.
"Their midfield is their strength," Roberts said. "[So] can we control their midfield? That will be the key to us having success."
Already in a good run of form, BU will be hoping to continue its success and progress towards a positive end of the season run, Roberts said.
"I just hope that we can become consistent, like we have been getting better in the last four or five games," Roberts said. "If offensive[ly] we can get a little better, which seems to be moving in the right direction, that's all we can ask."