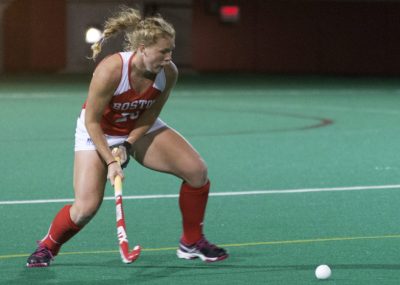 The Boston University field hockey team is preparing for a pivotal weekend series including a rematch of last year's Patriot League final. The weekend begins with a home contest against American University followed by a short trip to Northeastern University to take on the Huskies.
Last weekend, the Terriers (6-5, 2-0 Patriot League) remained unbeaten in conference play by beating Colgate University (2-9, 0-3 Patriot League) 5-1.
On Sunday, No. 2 Duke University traveled to New Balance Field and came away with a 5-1 victory. This was only the second time all season the Terriers conceded more than three goals in a game, the other time being against the No. 1 ranked University of Connecticut.
Junior back Ally Hammel finally got in the goal column Friday against Colgate, scoring a total of two goals.
Head coach Sally Starr said she knows her team needs to be ready for a huge game Saturday.
"Traditionally it's either been us or American hosting the conference tournament," Starr said. "So it's definitely a game that could turn out to lead to home field advantage."
American (9-3, 3-0 Patriot League) has won two in a row and and six of their last seven, good enough for first place in the Patriot League standings. American is leading the Patriot League at both ends of field, in both average goals scored and average goals against.
The Eagles offensive attack is definitely something Starr has her team preparing for, but she said she is confident the defense can hold up.
"In the second half of the game against Duke — without question one of the top teams in the country — we were able to hold them to only three shots and zero corners," Starr said. "If we can defend like that against American that will definitely heighten our chances for success."  
Starr said her team is ready to face the best competition that the Patriot League has to offer.
"The schedule we have played the past three weeks has really prepared us to compete in the same league with a team like American," Starr said.
The Eagles are led by five of the top 10 goal scorers in the Patriot League. With eight goals each, senior forward Haley Bowcutt and freshman midfielder Noor Coenen are tied for the team lead in goals and tied for second in the Patriot League behind Holy Cross' Maureen Connolly.  
The Eagles also have 2017 Patriot League preseason Offensive Player of the Year Rafaela Rubas. The midfielder scored the deciding goal in last year's conference final.
Northeastern (6-5) will begin a two-game homestand on Friday against Hofstra University before welcoming the Terriers on Monday. The Huskies are also coming off a weekend split in which they defeated Towson 2-1 before losing to College of William & Mary 3-1 in a battle of CAA opponents.
Redshirt senior forward Jamie Bartucca has 11 goals on the season, including seven goals in her last six games.
Similar to BU, Northeastern has been using a platoon in goal. In the game against Towson, goalkeeper Julia Gluyas played all 70 minutes. However in the 3-1 defeat to William & Mary, goalkeeper Julia Ennis played 62 minutes. In addition, Ennis has a better save percentage compared to Gluyas, .737 to .514 respectively.
Although Northeastern did participate in the Terrier Classic in August, Starr said she did not see any advantage in having seen the Huskies play.
"We are a very different team than we were in August and they are a very different team than they were in August," Starr said. "We'll be looking at much more recent video in preparation for the game against Northeastern."