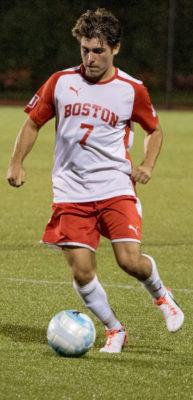 The Boston University men's soccer team will face one of its toughest competitors of the season, Loyola University Maryland, on Saturday at Nickerson Field.
The Greyhounds (7-4-1, 3-1-0 Patriot League) entered the 2017 season at the top of the Patriot League's preseason poll. Loyola entered last season's conference playoffs as the No. 2 seed and eventually fell to Colgate University 3-1 in the semifinals.
However, the Greyhounds avenged their loss by beating Colgate (8-4-1, 4-0-1 Patriot League) 2-1 on Sept. 22.
While the Terriers (5-6-1, 4-0 Patriot League) sit at the top of the conference, having gone unbeaten in the Patriot League this season, Loyola is right behind them with three wins and an overtime loss to Bucknell University.
BU head coach Neil Roberts said the team has been focusing on shutting down the Greyhounds' offense in preparation for the game.
"They're a very talented team," Roberts said. "They've got probably some of the most talented players in the conference. They're a very good attacking team so hopefully we can keep them under control attacking-wise."
Much of Loyola's success can be contributed to its offensive weapons, 2016 Patriot League Rookie of the Year forward Brian Saramago and midfielder Barry Sharifi who lead the Greyhounds with three goals apiece.
Junior midfielder Gabriel Carlsson has also been key in setting up chances for Loyola and has registered seven assists this season.
Although the Greyhounds' offense averages 1.25 goals per game, the Terriers' defense led by Patriot League Defensive Player of the Week, senior back Adam Sheikali has limited their last five opponents to two goals and shutout all of their four league opponents.
Roberts said minimizing Loyola's opportunities will consist of an entire team effort.
"You have to do it collectively," Roberts said. "You're not going to do it individually. You have to make sure you can limit their services and hopefully deny them the ball where they want it because [Saramago and Sharifi are] both very, very talented. They're fun to watch if you're not playing against them."
Additionally, the Terriers have the reigning Patriot League Goalkeeper of the Week in sophomore goalkeeper Michael Bernardi has largely contributed to the defensive success after starting in net for the past five games and Roberts has confirmed that Bernardi will start in between the pipes against the Greyhounds as well.
BU comes into this matchup after securing a 2-0 win against Lafayette College last weekend.
Sophomore forward Matt McDonnell tallied his third goal of the season and freshman forward Austin D'Anna collected his first collegiate goal.
D'Anna became the ninth Terrier to add a goal to BU's total of 12 this season.
Roberts said that going into the season he knew the offense wasn't going to come from just one player.
"It will be a collective challenge for us to get goals and it will come from different people, which sometimes that's good you don't count on any one person," Roberts said. "It's going to be balanced and different people can score so I think that will be a good thing for us."
Loyola also enters this matchup with a win after playing High Point University on Wednesday. During that game Sharifi and Saramago each picked up assists on the Greyhounds' lone goal by freshman midfielder Aldo Ruiz.
Last season against Loyola, BU had an offensive surge and scored three goals within 20 minutes to knot the game at 3-3 in Baltimore.
Overall, Roberts said his team's morale is good, but he mentioned the fact that they've always stayed positive no matter their record.
"Obviously when you're winning, things are good, but they're working hard and I think their attitude was good even when we weren't doing as well and we weren't winning games," Roberts said. "The team believes in what they're doing and we keep improving."