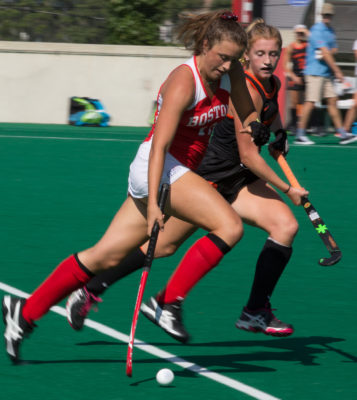 With three games of Patriot League play remaining, the first place Boston University field hockey team has their sights set on a matchup with conference rival College of the Holy Cross before a home tilt against Boston College.
"We're looking to continue on the momentum that we're getting in October," head coach Sally Starr said. "We learned some valuable lessons."
The Terriers (8-5, 3-0 Patriot League) have won three of their last four games. BU has limited opponents to just one goal in each of its Patriot League contests. Besides surrendering five goals to No. 2 Duke University, BU has conceded one goal apiece in five of its last six games.
Freshman Ailsa Connolly continues to pace the No. 23 Terriers with a team-high eight goals. The Auckland, New Zealand native is one of three Terriers hailing from the country — the other two being classmate Petra Hall and junior Maika Akroyd.
All three of the New Zealanders had recent successes — Akroyd scored the first two goals of her career over the last four games, with Connolly and Hall each scoring in the Terriers' most recent 6-1 win over Northeastern.
"The three of them just love the game of hockey and that's infectious," Starr said. "We're fortunate to have them because to me they're the total package, I couldn't be happier with their production and what they bring to the program."
Seniors Allie Renzi and Kali Shumock each scored their first two goals of the season in the Northeastern game, and a rainy day in Dedham turned out to be a bright spot in the Terrier season.
"Both of them are having outstanding senior years, I'm really happy with their attitude and work ethic," Starr said. "I was really pleased for them to get on the scoreboard."
Monday's game against Northeastern was played in "horrific conditions," Starr said, but served as one of the Terriers' best performances of 2017.
"They were like a bunch of kids let out on recess," Starr said of the team's energy. "We played some really good hockey that night, it was a fun competitive night."
The Holy Cross Crusaders (5-7, 2-1 Patriot League) have lost three straight games, but have the conference's leading goal scorer in senior Maureen Connolly. She's netted 12 goals and 5 assists and represents the most potent threat for BU.
"Holy Cross is a much improved team, you really have to be mentally and physically prepared to play in games like that," Starr said.
BC (9-5) comes off of a shootout victory over Harvard. The No. 10 Eagles are led by senior Brooke Matherson who's tallied five goals and one assist. Sophomore goalkeeper Sarah Dwyer stood tall in the Eagles victory over Harvard saving a second half penalty stroke ending up with eight saves.
With just five regular season games remaining, tests against instate rivals Holy Cross and BC serve as sound tuneups for the Patriot League tournament, but the Terriers are not looking that far ahead.
"If we can keep up the energy, spirit and focus one game at a time then we're just going to continue to improve through October and be ready for November," Starr said.