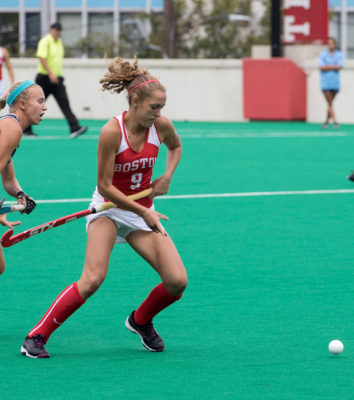 The No. 24 Boston University field hockey team is riding high after clinching the first seed in the conference tournament as all Patriot League Championship games are set for New Balance Field for the third consecutive year.
Before that, the Terriers (10-6, 5-0 Patriot League) still have two important matches, beginning with a short trip across to face local rival No. 19 Harvard University.
When these two teams met last season, Harvard came out with a 1-0 victory. This snapped a seven-game series winning streak for the Terriers.
The Terriers come into this game dropping four out of the five games they have played against Top 25 teams. Their only win was a conference win against then No. 24 American University.
BU is coming off a 6-0 drubbing of Lehigh University. Two goals from senior Grace Boston and two goals and an
assist from junior Kara Enoch led the way. While Boston and Enoch both contributed in a big way, it was a balanced attack from the Terriers that gave Lehigh the most trouble.
Six different Terriers were credited with a point, including freshman Ailsa Connolly's team leading 10th goal of the season and junior Maika Akroyd chipped in with a pair of assists.
Head coach Sally Starr said she is still looking for improvement from the team in certain areas, including possession.
"We need value possession of the ball," Starr said. "Our tackling needs to be better, our individual defense needs to be better but probably the biggest thing is our pace of play and valuing possession."
Harvard (10-4) comes off a tough 3-0 loss to Princeton University. Prior to the Princeton defeat however, the Crimson had won eight of nine games dating back to Sept. 15 against Northeastern. The three goals conceded are tied for the most Harvard has given up all season.
Starr was very complimentary when talking about the Crimson.
"They're a very good team, well-skilled and well-coached," Starr said. "It'll be a great matchup for us. It's going to be a good stepping stone for us to show us what we are doing well and we need to continue to work on."
The Crimson have two strong goalkeepers in junior Libby Manela and senior Olivia Startup. Both have sparkling goals against averages, 1.15 and 1.54 respectively.
Offensively, the Crimson are led by reigning Ivy League Rookie of the Year Bente van Vlijmen. The sophomore midfielder commands the entire field and has tallied nine goals and two assists.
Van Vlijmen scored the only goal in the game last season between these two teams.
Harvard is deep offensively, as six players having at least six goals. Senior captain Ellie Cookson is their key distributor with eight assists to pace the Crimson.
The Terriers have gone with a goalkeeping tandem of freshman Millie Baker and junior Kathleen Keegan. The two have combined to limit opponents to a 1.76 GAA — the second lowest total in the Patriot League.
Despite having clinched a playoff berth, Starr said that she wants her team to take this rest of the season one game at a time.
"We have to continue doing what we're doing and take things one match at a time," Starr said.