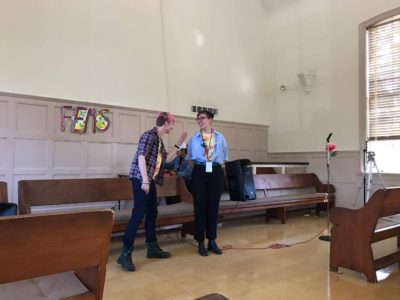 Northeastern University student Aika Misawa stood in front of a pew-filled room as the audience snapped, clapped and yelled in support. She had just performed a poem she wrote called  "New Gods."
Wearing a velvet dress, Misawa matched her fellow teammates on the Death by Velvet team. Teams of four individuals competed at the FEMS First Annual Slam Poetry Tournament and Festival. FEMS, otherwise known as the Feminine Empowerment Movement Slam, held the event from Saturday to Sunday. The festival took place at multiple venues, including Friend's Meeting in Cambridge, Lilypad Inman and the Democracy Center.
FEMS is a "community based, grass roots initiative," according to its website, and poetry group created by Zenaida Peterson that welcomes anyone identifying as feminine. They aim to be radically accessible to people of various ages and incomes and to include people with disabilities, according to their website.
Andrine Pierresaint, one of the organizers of the event, said the main objective was to fill a hole in the slam world.
"Expressing your feelings and writing are seen as very feminine and yet a lot of slams nationwide are all won by men," Misawa said. "There's a weird contrast between the two, so I feel like they made this event in order for femme voices to be heard."
Pierresaint said the slam community expects specific poems from feminine people but the FEMS community wants to change that. Many poems in the first round on Saturday expressed troubles related to gender identity, race, mental illness and addiction.
"We really just want to give feminine people a chance," Pierresaint said. "Especially in the slam community, feminine people can only do certain types of pieces [and] won't win with love poems, but someone more masculine will."
Pierresaint said she joined FEMS about five months ago when it was new because many slam groups are 18 and above and she is 15.
"Being really young and feminine and black and queer and having all these things, I haven't had a space for people exactly like me where we're most wanted there," Pierresaint said. "It's really important for me, especially as a younger person who's not allowed in a lot of spaces."
She explained that providing a creative outlet like poetry is very important, especially for those who do not feel included.
"[A creative outlet] really isn't appreciated enough," Pierresaint said. "There are holes in it and there are people who don't feel seen, they just want to fill those holes."
Pierresaint noted that about 25 people organized the event. Lyra de Castro, another organizer, also said they looked over every detail to ensure the venues were wheelchair accessible and provided earplugs for people with sound sensitivity.
"Nothing that is happening this weekend comes without very specific intentions," de Castro explained. "Sometimes it's easy to get lost in idea that we'll just throw this thing together. Every single thing was scrutinized, every single word on the website was looked at by five or six people."
According to de Castro, FEMS also had active listeners at the event, which are people who listen to those feeling overwhelmed and need to talk. They provide this because slams can be emotional for both listeners and performers, de Castro said.
FEMS received funding for the event from the community's donations and fundraising. De Castro said the tournament was created by and made for the community and she is pleased with the feedback.
"The most important part is so many people responded," de Castro said. "If we think about projects that are worthwhile and shift the way people think,  we think about impact and it's not just that people showed up and filled the room — it's that people were so passionate about this."
Attendees also had the option to attend open mics and writing workshops ranging from poetry to songwriting, according to Pierresaint.
De Castro said FEMS plans to make the festival an annual event and next year, they will apply for grants and try to expand the tournament.
Pierresaint added that FEMS has already established a supportive femme community but hopes the festival will further expand the group to include others.
"The reason why I couldn't choose my favorite piece is because I related to each poem as a woman, as someone who identifies as feminine," Misawa said. "I felt that was something that was very empowering and something I haven't felt in any other slam event."