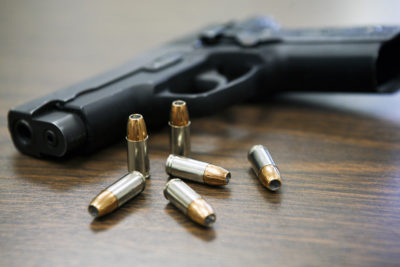 A report on the relationship between firearm availability and suicides released Tuesday found that the presence of a firearm in the household may be linked to an increased risk of suicide, though many Americans are unaware of or disagree with this correlation.  
Authored by researchers at Northeastern University and Harvard University, the report is based on information from a web-based survey fielded in 2015 on gun ownership and related issues.
The survey found of the nearly 4,000 American adults who took part, only 15.4 percent agreed having a gun at home substantially increases the risk of suicide, said lead author of the report Andrew Conner.
Among gun owners, only six percent acknowledged their firearms increased the risk of suicide to themselves and others and only about one in three health care practitioners affirmed household firearms increase the risk of suicide, Conner said.
Despite this skepticism, a 2002 Epidemiology study, released by two of the same authors, compared gun related suicides in states with high and low rates of household gun ownership over the period from 1988 to 1997, and noted a total of approximately 11,500 more gun related suicides in those states with more ready access to firearms.
This information gap on the part of health care practitioners poses a significant barrier to their ability to effectively counsel patients at risk of committing suicide, Conner said.
"Doctors can play a role in counseling people who own firearms about the risks, especially about suicide because most firearm deaths are suicides," Conner said. "If you're going to ask clinicians to do this, there's much more work that needs to be done to educate those that you want to counsel at-risk people."
The next step in applying findings from this survey to real life situations is to further research the best ways to educate both at-risk people and clinicians on the relationship between firearms ownership and suicide, Conner said.
"I would say the big take away message is that if you know someone who is struggling with mental illness, having problems with alcohol or substance abuse, is deeply distressed over a breakup … make sure that they don't have ready access to firearms," Conner said.
The presence of a gun poses a significant risk to those who are suicidal relative to other threats due to its effectively lethal nature, said Steve Mongeau, executive director of the suicide prevention organization Samaritans Inc.
"We know that over 90 percent of people who attempt to end their life by suicide and survive … go on to live their life and never attempt again," Mongeau said. "Using a gun is so lethal, you don't get a second chance the way you might if you could overdose or take pills or even jump from a high place."
Mike Gildesgame, a member of the Massachusetts Coalition to Prevent Handgun Violence, said the coalition is currently advocating for the passage of an Extreme Risk Protection Order in the state to address the potential threat dangerous gun owners pose to themselves and others.
"[The Extreme Risk Protection Order] allows … for family members, caregivers, medical professionals and others to petition for a gun to be removed from a home where an individual is seen as posing a threat to him or herself or somebody else," Gildesgame said.
Jim Wallace, executive director of the Gun Owners' Action League of Massachusetts, said studies identifying a relationship between gun ownership and risk of suicide are inaccurate because they fail to consider other factors such as access to mental health care.
"What you find with high suicide rates is it's usually very rural areas and it's because they have virtually no access to mental health care," Wallace said.
In order for suicide rates to drop, there must be a shift in focus from gun control to mental health care, Wallace said.
"While we really need to work hard on suicides, we need to stop going after a thing [guns] and start paying attention to the human element," Wallace said.
Several Boston residents said they agree firearms ownership and risk of suicide are related and action should be taken to address the issue.  
Grant Murray, 29, of Back Bay, said he supports gun control and more public awareness on the risks of having a gun at home.
"Getting that message out would probably help," Murray said. "I think we don't need as many firearms as we do have, especially the automatic rifle."
Harper Hutchins, 24, of Allston, said she supports gun control, especially in the prevention of suicide and mass violence.
"If guns are involved in any way, then there's going to be a higher risk for injury," Hutchins said. "I think definitely legislation has to be put in place, especially [because of] recent events like Las Vegas."
Jessica Catturini, 39, of Allston, said more stringent gun control will be the most effective deterrent of gun violence.
"There needs to be more gun control," Catturini said. "Plain and simple, and of course education but that's part of ignorance. People don't want to become educated on owning something that is very dangerous."