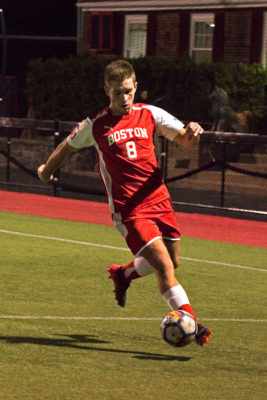 The Boston University men's soccer team will play its last regular season game on Friday — taking on Colgate University — as the Terriers (7-7-3, 6-1-1 Patriot League) look to seize their second Patriot League season title and the No. 1 seed with a win.
BU, who will return home following two games away from Nickerson Field, has a chance to extend their all-time series lead to 7-1-2 with a win Friday. The Raiders (6-10-1, 3-4-1 Patriot League) won last year's contest 2-1 on Nickerson Field.  
The Terriers, who haven't lost since the Oct. 14 match against Loyola University Maryland, will look to bounce back after a disappointing 0-0 draw versus Bucknell last Saturday. In that game, the team commanded a 15-5 advantage in shot attempts but was denied of their fifth road win.
During their weekend tilt, both BU and Bucknell could only muster a few quality scoring chances as both sides defended well. BU sophomore goalkeeper Michael Bernardi and the rest of the Terrier defense did not allow a goal in regulation or overtime.  
For the third time in four years, the Terriers are locked in as a top-three seed for the approaching Patriots League tournament. The team controls their own seed — a win gives them the No. 1 slot, while a loss could potentially drop them down to third in the conference.
BU head coach Neil Roberts said the team will have to work hard to get a win on Friday as the Raiders are vying for playoff contention.
"I'm sure Colgate's going to have something to say when they play us," Roberts said. "They need the game to make the playoffs, so it'll be a good game. It won't be easy — we're obviously going to play everybody that we can that's healthy and go from there."
The Raiders netted a critical 2-1 over the United States Naval Academy this past Sunday to stay alive in the clash for a position in the Patriot League Tournament.
The Terriers have to keep an eye on Colgate senior Jared Stroud, whose corner kick assist against Navy (2-12-2, Patriot League 0-6-2) tied the team's single-season assist record. One more assist, giving him nine on the season, would provide the midfielder with the highest career and single-season assist total for Colgate.
Colgate junior back Aram Ouligian scored his team-best sixth goal during Sunday's game.
BU sophomore forward Matt McDonnell, who has not scored since an Oct. 17th 1-1 draw against Northeastern University, looks to get back on the board Sunday. He leads the team with four goals.
Roberts said his squad has relied on its fledgling players to step up after losing several veteran plays, such as junior back Ben Valek and senior David Amirani, to injury this season.
"Obviously, we've had to count a lot more on the younger kids than we'd hope to," Roberts said. "The freshmen have all done a great job. We're using five of them, and they're doing well."
Roberts said though the play of senior back Adam Sheikali and McDonnell have been noteworthy, it's been the team's united effort that has impressed him the most.
"[Sheikali] in the back is a veteran guy who's done well for us," Roberts said. "[McDonnell] up top has done well for us. It's funny that it's more collective than anything else. It's not really one guy that's doing it all for us."
Despite starting the first five games of the season without a goal, the Terriers have rebounded nicely. They have only been outscored 20-18 and have received goals from nine different players.
Freshman Toti Knutsson sits atop the Terriers' leaderboard with 11 points. Knutsson and McDonnell have been the top two scoring threats for the Terriers. The underclassmen have stepped up to fill the role that was left behind last year by Felix De Bona and Anthony Viteri.
Though the team's final regular season game will be a home contest played on Nickerson Field, the Terriers already celebrated 10 upperclassmen for Senior Day on Oct. 21 with a win over Navy.
Roberts said the ultimate goal will be securing the No. 1 seed for the tournament.
"We're going out to try to win the game," Roberts said. "We'd love to get home field, and we'd love to come in first in the conference. We have the opportunity to do it, so now it's a question of whether we can pull it off."