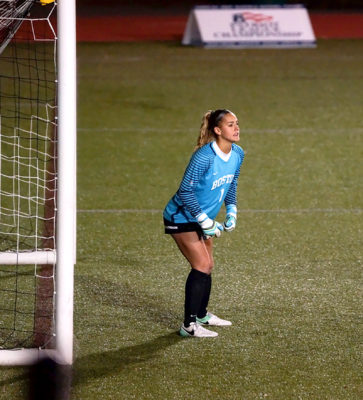 For many freshman goalkeepers playing Division 1 women's soccer, much of the year is spent on the sidelines, watching and learning as older players tend the net.
However, Amanda Fay has had a much different experience in her first season with the Boston University squad. The freshman has played 1,196 regular season minutes in goal for a team that got the third seed in the Patriot League Tournament.
"I wasn't sure what was going to happen [at the start of the season]," Fay said. "I just wanted to come in, train as hard as possible, and see what [would] happen."
Fay was one of the main catalysts of the Terriers' (10-7-3, 6-2-1) success in conference play. She had shutouts against seven Patriot League teams — the first shutout she had occurred when she spent the whole game in net on Sept. 16 against American University.
She has allowed just four goals in Patriot League tilts this year.
In addition to her conference shutouts, she also shutout two non-conference teams, Dartmouth College and Harvard University.
"She's had a big one or two [saves] in just about every game," BU head coach Nancy Feldman said. "She has proven to be a gamer. She finds a way. The [shots] that she gets, she seems to be ready for. [She] stays focused in the match and shows a lot of poise, confidence, toughness and maturity. Kids have a lot of faith in her."
Her Patriot League play is impressive considering the manner in which she began her career. After being thrust into the spotlight in the final 15 minutes of a 2-0 loss to the University of Cincinnati in mid-August, Fay received her first start on Sept. 10 against Boston College.
Facing an Atlantic Coast Conference team in her first ever nod proved to be a tough task for the freshman. The Eagles (10-9-1) unloaded three goals despite being outshot, 12-10, by the Terriers going on to win 3-0.
"That was a tough game," Fay said. "I was expecting that to be a tough game so I was mentally prepared for it. When we lost, I was feeling a little bit upset but I thought that I should just come back and show people that I actually should be on the field and [that] I could handle the next team."
At that point, BU boasted a record of 1-5-2 and needed some consistency in order to turn their season around — Fay stepped up and found her niche in that role. Beginning with her 6-0 shutout of American University (2-15, 1-8 Patriot League) in which the Terriers took task to the Eagles with an 18-3 shot advantage, Fay became a reliable force in goal.
This victory marked a five-game straight shutout streak and a 555-minute scoreless stretch for Fay — her team enjoyed an 11-0 point differential during that time.
The improvement in Fay's approach rested on her communication and footwork in net, two aspects that assistant coach Molly Poletto has assisted her with, Fay said.
"I didn't really like to talk before," Fay said. "Coach [Poletto] has taught me so much about communication. She is always reminding me to do it. Everything I have improved on is because [Poletto] is such as great coach."
Feldman said that her freshman goalkeeper has improved and will continue to get better.
"Her distribution with her feet is getting better," Feldman said. "When she came in, it was an area of weakness and she has made strides in that area through her work with [Poletto]. I think in the future it will become a strength because when Amanda focuses on something that she wants to improve, she gets it done."
Fay said she has fit in well with her new group of teammates, something that has allowed her to feel comfortable on the field.
"It is just great being here because everyone is so welcoming," Fay said. "Everyone is working so hard all the time and it is just amazing because you are working hard for a common goal. It is awesome being part of this program, being part of a new family."
Fay has also benefitted from having one of the best defenses in the Patriot League in front of her. The Terriers defense has allowed forced Fay to make 2.56 saves per game, the 10th lowest mark in the conference.
Having a stout defense in front of her prevents Fay from being bombarded with shots by opposing scorers, something that the Fay said she is thankful for.
"I could not have asked for a better defensive line," Fay said. "Everyone who plays back there is so amazing, and I am so grateful for that because it takes a lot of pressure off me."