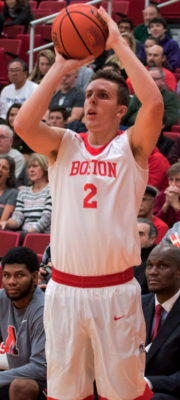 After a lengthy wait, college basketball season is finally upon us.
Much of the NCAA basketball world begins their season Friday, and the Boston University men's basketball team is no exception. The Terriers tip off their 2017-18 campaign at Case Gym hosting Northeastern University in a crosstown contest.
This matchup marks the eighth consecutive season that BU has started their season against the Huskies. Last season, the two squads kicked off the year with a home-and-home series. Northeastern emerged victorious from the season opener at Matthews Arena, shooting 55 percent from the field which led to an 87-77 win.
A week later, the Terriers defended The Roof with a 65-63 victory, as now-senior forward Cedric Hankerson scored a go-ahead layup with less than five seconds remaining to seal a victory in front of what could have been the best crowd BU fielded all season.
"It's our biggest rivalry," Terriers head coach Joe Jones said. "It's a great way to kick off the season. It's been an intense battle. There's been overtime, buzzer beaters. It's been epic every time we go to battle."
BU will be seeking a similar result on Friday night despite some primary contributors from last year's contests being absent from the floor on both sides. Eric Fanning, who led the Terriers with 17 points in their triumph over Northeastern, is now playing professionally in Hungary. T.J. Williams, who led all scorers with 24 points in the game, scored six points for the Greensboro Swarm of the NBA G-League Tuesday night.
After dealing with some injuries in the preseason, BU is back to full strength just in time.
"We have been going full tilt for about a week now," Jones said. "We've got everybody back. It's good to have everybody back."
The Terriers will be depending on players such as Hankerson and sophomore forward Tyler Scanlon to bump their scoring averages to double digits. Hankerson made the All-Conference Second Team in 2014-15 with 15.9 points per game while shooting just under 40 percent from three-point range. He struggled to keep those marks up last season after sitting out the majority of the 2015-16 season due to a knee injury, posting 9.6 points per night on 34 percent shooting from the three.
Scanlon impressed in his freshman campaign, shooting over 40 percent from deep while averaging 8.1 points per game. The Virginia native hit two three-pointers in the Terriers' win over Northeastern last season, and his playing time increased as the season progressed into Patriot League play.
On the other side of the ledger, the Huskies are looking for senior guard Devon Begley to take his game to the next level. The Pearland, Texas native was first among all returning Huskies with a 9.7 points per game average a season ago, shooting 37 percent from three-point land.
Northeastern is powerful on the inside, something the Terriers will have to overcome. Junior Jeremy Miller only played 16 games a season ago due to a knee injury, but the 2016 CAA All-Conference Honorable Mention selectee is at full strength to begin this year.
The Terriers saw Miller grab a combined 15 rebounds in their two meetings a year ago. The Milton native also dominated Harvard University to the tune of 26 points and eight rebounds on Dec. 6, displaying his ability to show out against premier teams.
However, it is not just Begley and Miller that the Terriers will need to look out for.
"I don't know if there is one [superstar] guy," Jones said. "That's the strength of their team this year. They got a lot of guys that can hurt you. There are guys that are going to take on bigger roles because Williams is gone. They got a lot of pieces that people really don't understand. They go about eight or nine deep, guys with experience. They are going to be a tough out."