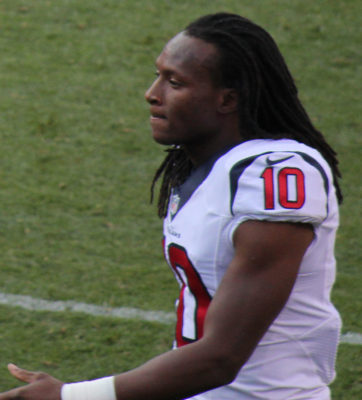 The worst part about sports: injuries. Take a look at the Houston Texans and the case of Deshaun Watson. After winning the National Championship with the Clemson University in 2016 and securing various awards for his outstanding collegiate season, he was finally selected 12th overall
by the quarterback-less Houston Texans in the 2017 NFL Draft.  
The Texans went on to start the University of Pittsburgh alum, Tom Savage, in Week 1 only to be handed the obvious results of a loss to the surprisingly stout Jacksonville Jaguars.  
Now, did head coach Bill O'Brien make the wrong call not starting Watson Week 1? No. Because no coach should ever feel obligated to start a rookie right off the bat.  However, Tom Savage pulled a Tom Savage and was removed from the starting job before Week 2, only to allow the what-should-have-been rookie of the year, Watson, to take the NFL by storm.  
If you're like me and had Watson in your league(s) or are just a plain old football fan, the news of his torn ACL in practice on Nov. 2 was truly devastating. For a second, take fantasy out of the picture. This 22-year old kid had 19 touchdowns through seven games! He broke the rookie record for touchdowns in a game (5) and in a calendar month (16) —  simply put, Watson is legit. But now all football pundits can do is wonder what he could have done in a full year.
For fantasy purposes, this is as bad as it gets. DeAndre Hopkins and Will Fuller need to be downgraded significantly, Fuller more so than Hopkins. With Watson, I am willing to say that Hopkins AND Fuller were both WR1s — Hopkins towards the higher end of the spectrum and Fuller towards the bottom tier of the elite wide receivers in the NFL.
With Savage, Hopkins is a low-end WR1/high-end WR2. This is ONLY because Hopkins is a top-5 receiver talent-wise, if he could perform last season with Brock Osweiler and Brian Hoyer at quarterback, he will be able to do it with Savage. In fact, the Clemson product (shocker that he and Watson paired so well), put up a hefty 6-86-1 line last week against the Indianapolis Colts with Savage at the helm and leads the NFL in touchdowns with eight. He also notched a score with Savage in their Week 1 game together.  
Fuller, on the other hand, can now sadly be considered just a WR3/FLEX option. Though he started the season in Week 4, the 2016 first round pick out of Notre Dame was an absolute x-factor for Houston. Through his first four weeks ever with Watson, he put up an outrageous seven touchdowns, second in the NFL behind his teammate Hopkins, connecting with the rookie QB for deep ball after deep ball to find pay-dirt and reward intelligent fantasy football owners for snatching him up off of free agents in the first place.  
It's pretty simple, Savage is just far worse than Watson, and his inability to connect on deep balls and move around in the pocket deeply plummets Fuller's value. One of the fastest WR's in the league, Fuller suffered from butterfingers in 2016, but his seam routes and streaks always kept in him relevant one way or another. He was budding into a legit WR1, but without Watson, I don't have much confidence starting him the next three weeks given his two catch 32-yard performance in Week 9 despite eight targets.
To put it lightly, injuries suck.