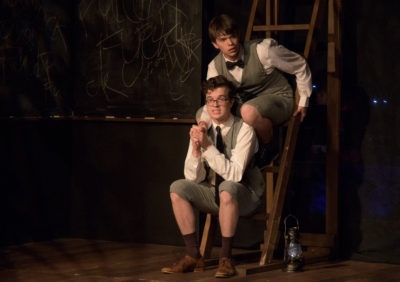 Huddled in a booth adjusting lights for the musical "The Last Five Years," Zach Schiffman, a senior in the College of Communication, and Emma Howard, a sophomore in the College of Engineering, shared a moment of clarity. In that moment, the two decided to produce "Spring Awakening" for BU On Broadway.
More than a year later, the pair will complete their dream when actors take the stage for four performances tonight, Friday and Saturday. Schiffman is directing and Howard choreographing for the production.
"Spring Awakening" is a rock musical about teenagers growing up in 19th century Germany. The audience follows the three leads — Melchior Gabor, Wendla Bergmann and Moritz Stiefel — as they struggle to figure out their sexuality. According to Schiffman, the musical addresses sexual assault, mental health, women's health, sex education and abuse — among other topics.
Schiffman said the musical broke a BU On Broadway record because it sold out all four shows last Friday morning, three days before the cast moved into the theater. He explained that the musical is relevant and popular despite the difference in time period because many of the themes still apply to today.
"We have not resolved issues of mental health and the issues of women's health and the issues with abuse and so many things," Schiffman said. "It's such a controversial show for so many reasons, but it's a story we can't avoid, and we have unfortunately not come very far with."
The director noted that they will be donating a portion of proceeds made from "Spring Awakening" to Planned Parenthood to help prevent the issues that the characters face in the musical. They are also fundraising more money for Planned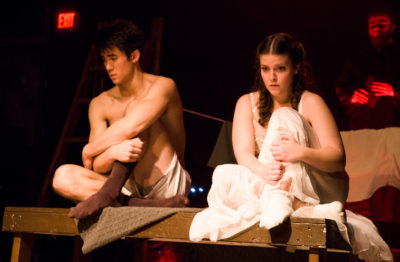 Parenthood in a separate fund and will host a talk with the organization after one of their shows.
Kate Jamison, who plays Wendla Bergmann and a senior in the College of Communication, said she hopes the show is able to not only entertain but help the audience through the issues portrayed.
"I really, really hope that this show can connect with the people in the audience who have similar experiences to [the characters] but haven't been able to express this and feel this and process it," Jamison said.
Schiffman said he tried to make the characters' struggles clear to the audience by embracing symbolism. Actors carry lanterns at points in the show, and the lanterns represent their sexuality, according to Schiffman. The symbol of light continues throughout the production.
"We're trying to embody sexual desire as something external," Schiffman said. "The first act is a lot about expressing sexual desires and putting it at the forefront, and so we figured a good way of expressing that is a light within [the characters] that's growing and burning."
Schiffman noted this version also differs from many other "Spring Awakening" productions because they are performing in a smaller space — the Agganis Student Theater only has about 200 seats.
"It's going to be very intimate, and the connection with audience will be very close," Katie Lewis, who plays Greta Brandenburg and a sophomore in the College of Engineering, said.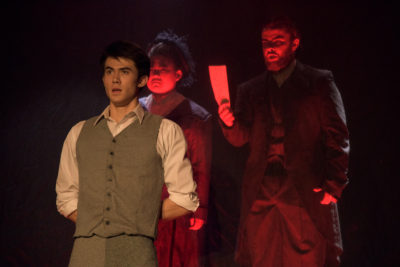 Schiffman said he intentionally selected a smaller theater because he felt he could best achieve his vision there within the close space that emphasized the expressionism.
"We are working to really put a visual language that honors German expressionism, which is what the original text was written," Schiffman said.
Schiffman stated that German expressionism "means the separation of reality and heightened senses and of rigid expression." His emphasis on expression carried over to the casting process for the 14 characters in the show.
"One thing was really just making sure people could be expressive, and people could really find a way to honor this text in their own way because I wasn't looking for people who came from conventional musical theater," he said. "I was looking for people who could be expressive and be true to themselves."
One of Jamison's favorite moments onstage is when Wendla sings "Whispering," when she has a breakthrough and realizes her mother had lied to her about how babies are made, leading her to become accidentally pregnant.
"She has this moment where she realizes her mom is wrong," Jamison explained. "You realize you knew something your parents didn't and your mom lied to you, [and] I have this song where I realize I can make a change in my own life."
Lewis said she hopes the audience can learn from mistakes made by characters in the musical.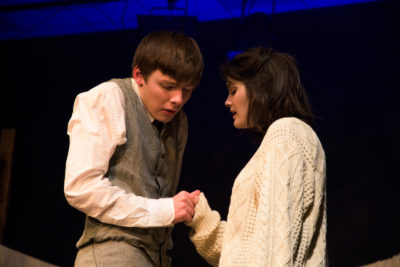 "It's obviously a very sad story," Lewis said. "But it's almost a cautionary tale showing this is what happens if you don't address these issues and talk to adolescents when they're going through all these things and shame them for having these natural human urges and thoughts."