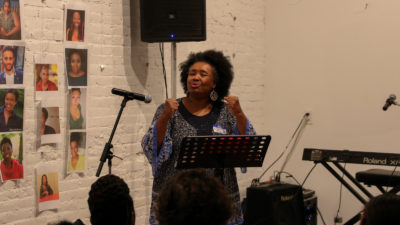 When award-winning musician Lovely Hoffman sat down at the keyboard and played the opening notes to her song "My Black Is Beautiful," the crowd seated inside the Black Market in Roxbury immediately fell silent. The lights dimmed and the audience listened as she belted out the lyrics she wrote praising the beauty of the black community, particularly girls and women.
The meaning of Hoffman's song resonated with the goal of the Front Porch Arts Collective, the company who hosted the open house where she performed. Like Hoffman's message of black confidence and power, the Front Porch seeks to shine a light on the stories of people of color in theater and the artistic community as a whole.
"It's a place where they can come see something different, where they can be exposed to a different point of view and have a place for creative and civic dialogue," Dawn Simmons, the artistic director and cofounder of Front Porch, said.
Simmons said she helped to create Front Porch a year ago after partnering with Central Square Theater in Cambridge for fiscal backing and performance venues. So far, the collective has presented four readings of the play "Black Odyssey" by Marcus Gardley, and will perform an actual production of it with Central Square Theater in 2019, he said.
Those interested in becoming involved with the play's production were some of the people attending the open house on Sunday. The crowd — composed of many races, ages, genders and backgrounds — had an opportunity to chat with the Front Porch staff and fellow art lovers while enjoying snacks, listening to music and watching a reading of a scene in "Black Odyssey" by actress Ramona Lisa Alexander.
"We're really trying to get people to know who we are," Victoria George, one of the collective's marketing and audience development managers, said.
George herself is an actress, and said she was disappointed by the disproportionate influence of white men in the local theater and arts community.
"For me, as an artist and a person of color and a black woman, trying to do shows in the Boston area can be pretty limiting, so I thoroughly believe in the mission of the Front Porch," she said. "They really try to bring stories that are unique and different that Boston is often afraid to try."
According to their website, the Front Porch will read three more of Gardley's plays in the upcoming months to expose more community members in the Boston area to the collective and its initiative to bring the stories of brown and black people to the city. All of the productions are free to attend, and each provides more job opportunities for minorities working in the arts.
Charity Everett, 29, of Allston, was one of the attendees drawn to the Front Porch because of its message of empowering artists of color such as herself.
"I love all these people getting together to celebrate art and creativity within a community that is normally under-resourced and not really respected for the contributions that we make to the greater society," she explained.
Everett is an augmented reality artist, which means she layers physical art with the virtual plane. Her current project explores what it means to be human and the origins of humanity. While she was working on it at the MIT Hacking Arts conference, she decided to leave early to attend the open house for the Front Porch because she felt that it was where she needed to be.
"I feel like my message is well received here, and I feel like people really appreciate it when I bring what I do here," she said.
This message of empowerment of black and brown people in the arts was what Gregory Bloomfield, director of finance for the Front Porch, said he hoped to promote when he began working with the collective. It was also his motivation for bringing his two children to the open house.
"I felt it was important for my son and my daughter to be around other African-American actors and actresses to feel inspired," he said.
His son Thaddeus, 10, is performing in "The Little Mermaid" at his elementary school, and his daughter Isabelle, 8, is also interested in theater. Both said that they were enjoying the event.
"One of the best ways to combat racism in our nation is providing opportunities for people of different backgrounds, experience levels, colors, religions, creeds and sexualities," Simmons said.
She added, "The more that we can expose our city to those people, putting them in the same room together to talk, to work, the more opportunities we have for coming together in a peaceful and thoughtful way that not only challenges stereotypes but that also shatters them."