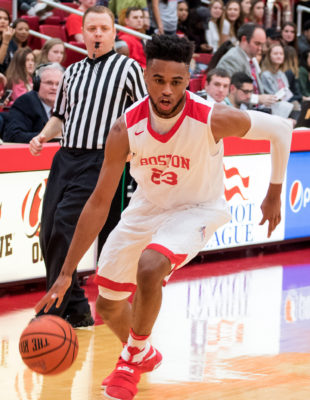 The road proved tough to the Boston University men's basketball team Sunday evening as they fell to the University of Connecticut, 85-66, in their first contest away from Case Gym.
Despite 20 points and five rebounds from senior guard Cedric Hankerson, the Terriers (0-3) were unable to limit a formidable Huskies (3-0) offensive push. Sophomore guard Christian Vital led all scorers with 30 points along with five rebounds for UConn while junior guard Jalen Adams chipped in 12 points, six rebounds and three assists.
The 30-spot was a career-best for Vital and the first time in his career scoring at least 20 points. He went 9-for-15 and 4-for-10 from three-point land.
"He just played hard," UConn head coach Kevin Ollie said. "We had a good talk in my office and he was just like 'I got to be humble and I got to play my game. I can't force things, I got to play defense. I can't expect things to be given to me and I have to work for it.' And that is what he did. I'm very proud of him."
BU head coach Joe Jones also had praise for Vital.
"He hurt us last year," Jones said of Vital. "This year, he was 4-for-10 from three but he got in the lane. The 4-for-10 from the three I can take but he was able to get to the basket and able to make foul shots and that really hurt us. I told [them], someone is going to get hot."
Graduate transfer guard Antwoine Anderson added 11 points and five rebounds while redshirt junior guard Terry Larrier came off the bench to contribute 11 points and seven boards for the Huskies.
UConn dominated the Terriers inside, which has become a theme for the BU team this season. They garnered 52 rebounds to the Terriers' 32 while doubling up BU on the offensive glass — 16-8.
The Terriers managed to keep up with the Huskies from beyond the arc, hitting 10 three-pointers to tie UConn's mark while shooting a better percentage. However, it was at the free throw stripe where the train became to come off of the rails. BU missed 10 of their 21 foul shots compared to the Huskies 13-for-20 rate at the line.
There were some bright spots for BU, as senior forward Nick Havener continued his strong start to the season with a double-double of 16 points and 10 rebounds. Sophomore forward Tyler Scanlon put up 12 points, four rebounds and three assists and freshman forward Walter Whyte added six points.
At first, it seemed as if BU was the team headed towards a blowout win after a Scanlon three-pointer with 15:15 remaining in the first half gave the Terriers a 8-1 advantage.
"Once again we got off to a slow start and we have to correct that," Ollie said. "We're going to be down by too many points to try and make a comeback [in future games]."
A three by Havener two minutes later handed BU an 11-4 lead, but the Huskies were able to work their way back to force a 13-13 tie halfway through the first stanza following an Adams trey.
BU maintained their composure over the next three minutes, going up 22-18 with 6:43 left after a Hankerson bucket. The Huskies then proceeded to rip away the momentum from the Terriers' grasp. Beginning with two Vital layups, UConn surged out to an 21-9 run to take a commanding 39-31 run into the halftime break.
The Huskies kept their foot on the gas in the second half, jumping out to a 5-0 run to begin the final 20-minute half while never allowing the Terriers to creep into contention.
"I like the second half starts that we've been having," Ollie said. "Hopefully, these guys get their wake up calls a little bit earlier."
Jones recognized that UConn was going to be a tough game for his squad.
"I told our guys that [UConn] was going to play as hard as anyone we have seen so far," Jones said. "They compete. They really outplayed us in every facet of the game."