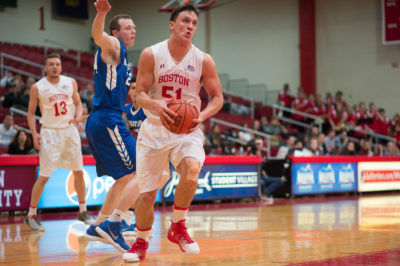 If you asked Joe Jones, the head coach of the Boston University men's basketball team, for one word to describe how to win a game of basketball, it would be "toughness." While they do not have the best record on paper, the Terriers (2-3) have displayed their toughness in the early going.
Having lost their first three games, BU has now won two in a row, including an 83-48 dismantling of Wheaton College on Sunday.
Jones and his team will be forced to display that toughness if they want to leave Lundholm Gymnasium with a win. The Terriers will begin a four-game stretch away from home against the University of New Hampshire on Wednesday night in Durham.
While their record may not hint at a tough challenge for BU, Jones is wary of the Wildcats and their strong inside presence.
"Their interior is [as] good of an interior that you're going to find," Jones said. "With forwards Iba [Camara], [Tanner] Leissner and [Jacoby] Armstrong, they have a terrific front line and those guys have been in that system for a long time."
Jones went on to praise Leissner in particular, a 6-foot-7-inch and 230-pound senior forward from Converse, Texas, and the leader of the UNH (1-5) front court.
"Leissner is going to work as hard as any kid you've seen in terms of his ability to post up and demand the ball," Jones said. "You don't see a lot of guys averaging 18 a game."
The Terriers look to counter Leissner with senior forward Nick Havener and senior guard Cedric Hankerson, who lead BU in points with 12 and 11.2 points per game, respectively.
Havener, a 6-foot-8-inch senior from Sarasota, Florida, played exceptionally well against the University at Albany and the University of Connecticut, shooting a combined 15-21 from the field while averaging 17.5 points per game.
As far as other contributors for the Terriers go, Jones will be looking to Max Mahoney, his 6-foot-8-inch sophomore forward from Basking Ridge, New Jersey, to shed his early season struggles.
"He's a guy that we really need to step up," Jones said, "We need to get him the ball more and he needs to stay out of foul trouble. He's a guy that we desperately need to play better."
Mahoney amassed four fouls in each of his four games for BU this season, playing just 18 minutes in a 66-85 loss to UConn (4-2) on Nov. 19 and 13 minutes against the University of Maine last Wednesday.
"We had to really spend some time changing how we're going play because of injuries," Jones said. "We got off to a slow start this year … At some moments, we might even have three freshmen on the floor … But we have to grow up quick. The toughness is where we have to grow … This team needs to grow together and we need to have experience."
Jones will be looking to Wednesday's game against UNH, and the next three after it, as a building block for the Terriers as they head toward conference play in January.
"Any time you get a chance to go away, those [games] are always an experience," Jones said. "I've seen some good things just in the last week and I see things we're willing to get better at. It all comes down to the conference … what's going to happen in January. We want to be playing better basketball then, so let's hope these experiences are going to help us down the line."