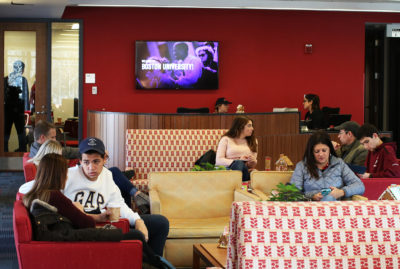 The U.S. Department of Education is launching a mobile application that will allow prospective college students to fill out the Free Application for Federal Student Aid, known as FAFSA, from their phones — a development several Boston University community members said could simplify the financial aid application process.
The app, which is slated to be released next spring, will also allow students to manage federal student loans and check their credit scores, according to The Chronicle of Higher Education.
The U.S. Office of Federal Student Aid demonstrated the app at the Federal Student Aid Training Conference for Financial Aid Professionals in Orlando, Florida on Wednesday.
For the 2016-17 academic year, BU undergraduate students received a total of $14,350,197 in need-based financial aid through scholarships and grants from the federal government, according to the university.
BU spokesperson Colin Riley said the university welcomes the education department's efforts to simplify the FAFSA process.
"When the Department of Education … [is able to use] technology to improve the ability of people to provide information to the university — reduce paper and streamline the process, make it more efficient — all of those are generally very good things and we're happy to see those initiatives," Riley said.
Riley said he found it particularly interesting that the federal government is embracing the shift to mobile devices by providing access to materials in new ways.
"The Department of Education is seeking to make it simpler and more user-friendly," Riley said. "We know young people and more and more users of technology are using mobile devices, so the fact that they can put one of the more important documents and applications in a format that is most used by young people is terrific."
Kevin Lang, a BU economics professor, wrote in an email that the mobile app could allow prospective students from disadvantaged families to attend universities that are more closely aligned with their capabilities.
"One of the reasons that people attend lower-quality colleges and universities when they are qualified to attend better ones is that they believe they cannot afford a better college," Lang wrote. "If this app is successful at reducing this obstacle, we may find talented students attending institutions that are commensurate with their skill and preparation."
Ari Betof, the head of Boston University Academy, wrote in an email that "as a school, we are supportive of any new tools that are both secure and provide better access to financial aid for all families."
Several Boston University students said they think the mobile app would make the financial aid application process quicker and more convenient for prospective college students.
Liz Kappes, a senior in the Sargent College of Health and Rehabilitation Sciences, said she thinks a mobile format could make the FAFSA process less confusing for users.
"It's already very confusing so I think [the app] would be really useful," Kappes said. "I always had an issue filling it out online and don't do it right so usually apps are easier and they can guide you.
She also said the app would allow the financial aid application process to "go faster because people are always on their phones and not always at their computer."
Shawn Foley, a senior in the College of Arts and Sciences, said when he applied for financial aid, he felt the online FAFSA website was already formatted for a mobile app.
"I filled out both FAFSA and CSS," he said. "I felt like the online website was already in a mobile format so it didn't make sense that I couldn't open it on my phone."
CAS senior Camila Romero said the mobile app could make it easier for users to meet the FAFSA deadlines and allow them to receive immediate help with filling out the forms.
"[The app] makes it easier to meet the deadlines because you have on-the-go access to it," Romero said. "It makes it easier also to ask for help with FAFSA by having it always at your disposable, and have others access it with you to guide you through the process."