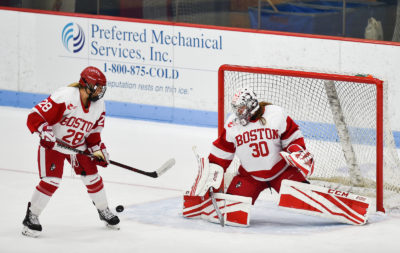 The Boston University women's hockey team will be skating into Walter Brown Arena Friday night feeling good about itself after securing two high-scoring wins last week against Merrimack College. The Terriers (10-13-6, 6-10-5 Hockey East) will face off against the University of Vermont in their last game before the annual Beanpot Tournament.
When facing off against Vermont (8-16-4, 5-11-3 Hockey East) earlier in the season, the series ended in a sweep for BU.
With only a handful of regular season games remaining, the number of available Hockey East conference points is dwindling fast. The Terriers will close the 2017-18 regular season with a home-and-home series against the University of New Hampshire following their two Beanpot games.
BU sits sixth in the conference with 17 points, while the Catamounts are one place behind in seventh with 13 points. Boston College holds a firm grasp on first place with 37 points, as Providence College remains second with 24 points.
Even given the Terriers' current win streak, both within the conference and against Vermont, BU head coach Brian Durocher emphasized the compete level of the Catamounts.
"You definitely need to respect their team speed," Durocher said. "They use their team speed and team depth to play both ends of the ice. I think they're playing some of their best hockey of the year right now and it'll be a battle."
One player Durocher highlighted as a particular threat is Vermont forward Ève-Audrey Picard.
In the Catamounts' recent sweep of Northeastern University, Picard racked up six points, including a hat-trick in the second matchup.
As a sophomore, Picard leads Vermont in goals, assists, points, shots on goal and plus-minus.
However, the Terriers have some offensive firepower of their own, with a total of 10 players having point contributions in double digits.
Senior forward and assistant captain Victoria Bach, who currently leads the team with 54 points, broke the women's hockey program record for career points last Saturday with two goals and an assist, making for a career total of 185 points.
The goals also tie Bach with BU alums Sarah Lefort and Jenn Wakefield with 32 goals in a single season. Bach remains just three goals away from 100 over her career.
Bach's efforts have her ranked second and third in Hockey East in goals and scoring, respectively.
Fellow senior forward and captain Rebecca Leslie, who follows closely behind Bach with 45 points, is also tied for fourth in conference scoring.
In the previous Vermont series, which took place in mid-November, the Terriers collected a 7-1 win the first night and finished the weekend with another 3-1 victory.
Bach had a five-point night, which included four goals, and Leslie earned a total of four assists and three goals.
When reflecting on BU's recent success, Durocher noted the the success of special teams. Of the late, the Terriers are converting 22.5 percent of their power play opportunities and killing 80 percent of their penalties.
Freshman forward Nara Elia scored early on the power play in the team's last victory against Merrimack (9-17-3, 4-13-2 Hockey East), breaking BU's three-game winless drought, for her eighth of the season.
"I thought it was a great way to get the game started," Durocher said. "The kids came right out and capitalized on it. We had momentum and confidence all the way through the game."
Another bright spot on the Catamounts' roster is sophomore goaltender Sydney Scobee. The Minnetrista, Minnesota native is ranked eighth in the conference with a goals against average of 2.75 and seventh in goal save percentage at .920.
Scobee was in net for Vermont in its recent victories over Northeastern (13-12-3, 9-9-2 Hockey East), during which she made a total of 56 saves.
The Terriers will be looking toward their own young goaltender, freshman Corinne Schroeder, to stand tall in net during the matchup.
Schroeder is currently ranked seventh in Hockey East goaltending with a 2.37 goals against average.
In BU's last series against the the Catamounts, Schroeder knocked aside a total of 60 shots on net, allowing only one goal in each game.
Her impressive play in the series subsequently earned her the title of Hockey East Defensive Player of the Week.
"[Schroeder] has had a really solid body of work all year," Durocher said. "Last game wasn't very busy for her, but she made some real big saves in the first that stemmed the tide and kept the momentum going in our direction. She has had a really solid body of work all year. I like that her save percentage has been solid .920, and we'll probably roll with her Friday."