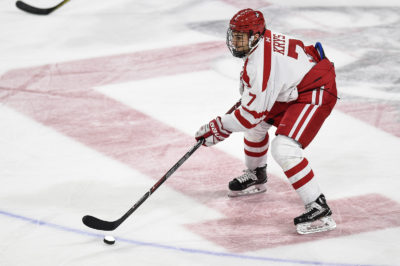 After sweeping Arizona State University last weekend, the Boston University men's hockey team returns to action Friday night in a Hockey East matchup against the University of Massachusetts Amherst.
Since the second half of the season began in January, the Terriers (13-11-2, 9-7-2 Hockey East) boast a 5-1-1 record and have outscored their opponents 24-14.
"I think we've gotten better goaltending, our d-corps has played better and our forwards have played better," BU head coach David Quinn said. "And, we weren't that far away when we're 8-11-1. We've played some good hockey, we just didn't play enough winning hockey and I think we're playing more winning hockey right now."
A large part of the Terriers' recent success can be contributed to the play of sophomore goaltender Jake Oettinger. Oettinger has only allowed one even strength goal in the last 235 minutes of play.
"He just looks composed, he looks like he's not wasting energy, he looks confident [and] he looks big," Quinn said of Oettinger. "When he's all of that, we got an elite goalie."
Since the start of the new year, junior forward and assistant captain Bobo Carpenter has notched eight points — including his second hat-trick of the season last Friday against the Sun Devils (7-16-5).
Carpenter leads the Terriers in points and goals with 26 and 16, respectively. His 26 points put the North Reading native tied for fourth in Hockey East, as he currently trails Northeastern University junior forward Adam Gaudette by three goals for the conference lead.
Freshman forward Brady Tkachuk has tallied a point in all but two games since the Jan. 6 loss at the hands of the University of Maine.
Last weekend he recorded his first two-goal game as a Terrier, and now finds himself tied for third in points on the team with 21.
"I liked his play even when he didn't have a goal for the first 12 or 13 games, and now he's just getting rewarded," Quinn said of the freshman forward. "Again, I think his skating has gotten better, he's more confident [and] he's making plays. I think once he started scoring goals, he's started putting less pressure on himself and he's playing with more fluidity."
Although the Terriers are coming into the game riding a wave of momentum, the Minutemen (11-14-1, 5-10-1 Hockey East) come having lost five of their last six games, which includes getting swept last weekend by the Maine (14-9-4, 8-6-3 Hockey East).
Freshman forward Oliver Chau currently paces the Minutemen with 20 points, but he has not lit the lamp since their Jan. 5 matchup against Yale University.
Sophomore Ryan Wischow and freshman Matt Murray have split time in net, and they will be tasked with stopping BU's offense, which averages 3.23 goals per game.
Wischow and Murray rank at the bottom of the Hockey East in goals against average with 3.03 and 3.09, respectively. Both boast a goal save percentage of .898.
Although Oettinger has been playing well as of late, he is seventh in goals against average and ninth in save percent in the conference with 2.63 and .908 respectively.
The Minutemen defense allows 3.23 goals per game while their offense averages 2.65 goals per game.
Quinn added that the Terriers will be without sophomore defenseman Chad Krys. Krys left last Friday night's game with an injury. Sophomore forward Patrick Harper, who has been out for the past six games, will remain a game-time decision.
Currently, BU finds itself tied with the University of Massachusetts Lowell for fourth in the league with 20 points — six behind current conference leader, Boston College.
"I haven't had to say too much. They understand the standings, they understand the Pairwise, they understand we've put ourselves in a position where [there are] two things," Quinn said. "One, we have to have an urgency, and two, we don't have time."
A victory Friday night would give the Terriers sole possession of fourth as the River Hawks (15-12, 10-8 Hockey East) are playing a non-conference game against American International College.
Quinn added that although his team has been playing well as of late, they still have two Beanpot tournament games and five conference matchups in the horizon.
"Every second of every practice and every game is of the utmost importance because we've put ourselves in a situation where it's an uphill climb," Quinn said. "So far we've responded, but we've got a long way to go."