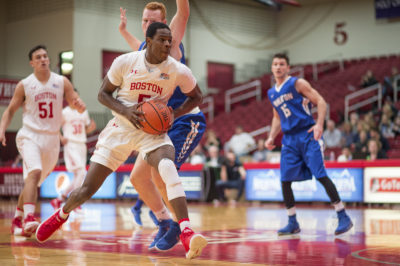 After a close 80-75 loss to Lehigh University over the weekend, the Boston University men's basketball team will look to bounce back against Colgate University at Cotterell Court.
The Terriers (12-11, 8-4 Patriot League) were almost able to knot the contest against Lehigh (11-13, 6-7 Patriot League) Saturday afternoon, but sophomore forward Tyler Scanlon's three pointer couldn't find the net.
Despite the missed shot, Scanlon notched a career-high 24 points and five assists.
"I thought offensively he was terrific," BU head coach Joe Jones said of Scanlon.
The Terriers and the Raiders (13-10, 8-4 Patriot League) are currently both tied for second place in the Patriot League with the same 8-4 conference record, and will battle it out to see who will maintain the standing.
Colgate enters the matchup with some momentum after beating the United States Naval Academy 69-64 Sunday afternoon. Senior forward Jordan Swopshire tallied 16 points and nine rebounds, while senior guard Sean O'Brien and junior guard Francisco Amiel chipped in 12 points.
This win marked the Raiders' fifth in their past six games, and Jones said he expects the matchup to be hard-fought and won by a close margin.
"It's going to be a tough game. We're going to have to find a way to grind it out," Jones said. "I'll be shocked, if we're fortunate enough to win, that we were able to win by double figures."
The last time the two teams met, BU bested Colgate 72-58 at Case Gym with sophomore forward Max Mahoney and senior guard Cedric Hankerson each netting 14 points. Scanlon also recorded a double-double (13 points and 11 rebounds) in the victory.
BU limited Colgate's shooting to 17.6 percent (6-for-34) from behind the arc and 29.5 percent (18-for-61) from the field.
However, following the loss, the Raiders went on a four-game win streak just two games later.
"The night we played them they didn't shoot the ball great. I think they're a better shooting team than they shot the ball that night," Jones said. "I just think they have a better sense of who they are now, they're playing better. They've won a bunch of games in a row. I just think they're better than they were top to bottom."
An area Colgate is especially strong is from behind the free-throw line, successfully making 75.2 percent of its free-throws as a team.
Over the weekend against Navy (15-10, 6-6 Patriot League), the Raiders shot 76 percent from the free-throw line, which ultimately helped them pull out the victory.
While Jones said his team has done a good job at not fouling recently, he said his team must stayed disciplined.
"Their defense is not great, their offensive field goal percentage is not great, but they get to the foul line a lot and they don't foul at all so we've got to be smart defensively and disciplined," Jones said.
This discipline will be especially important for Mahoney, the Terriers' second-leading scorer, whose foul trouble has impeded him in the past.
Against conference-leader Bucknell University, Mahoney was forced to sit after accumulating two fouls within a less than two minutes in the first half. The Basking Ridge, New Jersey native readjusted his approach in BU's following game against Loyola University Maryland and had a game-high 27 points.
Colgate's go-to free throw man is sophomore forward Will Rayman who has been successful 76.9 percent of the time behind the free-throw line. Rayman also leads the Raiders in scoring with 14.1 points per game and ranks fifth in the conference with 6.5 rebounds per game.
The Terriers' have been without their leading-scorer Hankerson for the past four games due to a hamstring injury.
Jones said Hankerson is still "day-to-day."
"I don't think he'll be ready to go," Jones said of Hankerson. "We're hoping in the next two games he might be ready to suit up…"
While BU will face a tough road game ahead, the Terriers currently hold the best field goal percentage (.468) in the conference, compared to the Raiders' 44.9 percent.
Colgate has seen success at home with an 8-2 record, but BU boasts a 7-6 record on the road.
Jones noted that his team's success on the road is due to the less distractions.
"We tend to do a better job when we are on the road," Jones said. "I just think we're more focused and it's kind of easier to stay focused when you're on the road; you don't have classes, distractions of being home. I think we've done a good job of that.