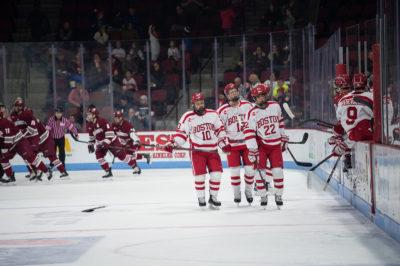 For the fourth time in as many years, the Boston University men's hockey team will find itself competing for the Beanpot Championship title.
The Terriers (15-11-3, 10-7-3 Hockey East) will look to prove they are the top dogs in Boston, and hoist the cup for the first time since 2015 and for the 31st time overall.
BU head coach David Quinn said that the past experience in the championship game helps those who have played in this tournament before.
"Obviously we've had some success in one of them and not so much in other two," Quinn said. "Anytime you can go through these experiences I think it's got to help you a little bit."
However, standing in the Terriers' way will be No. 11 Northeastern University. The Huskies (16-8-5, 11-6-3 Hockey East) have not won the tournament since 1988, in which they beat the BU 6-3 in the title game.
In last Monday's opening round, the Terriers beat Harvard University 3-2, thanks to a goal by freshman forward Ty Amonte in double overtime. Senior defenseman and captain Brandon Hickey and freshman forward Logan Cockerill also found the back of the net for the Terriers.
Moments before the puck dropped in BU's eventual victory, Northeastern shutout Boston College 3-0. The Huskies' top line of forwards senior Nolan Stevens, and Hobey Baker Award candidates junior Adam Gaudette and senior Dylan Sikura accounted for all of the goals in the win.
Gaudette, Sikura and Stevens all find themselves in the top four spots for points in the Hockey East with 44, 39 and 31 respectively. However, right behind them in fifth place is Terrier junior forward and assistant captain Bobo Carpenter with 28 points.
"Clearly they have the top line in our league and arguably the nation," BC head coach Jerry York said after his team's loss Monday night. "But they win with defense too so don't underestimate that."
Freshman goaltender Cayden Primeau's shutout is only the second time a freshman recorded a shutout in the Beanpot semifinal. Former Terrier Rick DiPietro shutout the Crimson (10-10-4) in 2000.
Monday will mark the third time this season that the Terriers and the Huskies have met. Northeastern recorded a conference sweep of BU back in November, defeating the Terriers by scores of 4-1 and 6-1.
Quinn added that his team has changed since those meetings."We've grown up a lot, I think all of our freshmen have played a lot more hockey," Quinn said. "I think we're in a different mindset. I think our goalie is playing the best hockey of the season. There's a lot of things we're doing differently."
Both teams were active over the past weekend. The Terriers skated to a 3-3 tie with the University of Massachusetts Amherst Friday night.
Freshman forward Shane Bowers lit the lamp twice and Carpenter added a tally. Bowers is now tied for most goals among freshman with 15.
Despite the tie, Quinn said that the matchup gave them the confidence they needed due to the uncertainty of losing junior forward and assistant captain Jordan Greenway to the 2018 Winter Olympics.
The Huskies fell to the University of Connecticut 4-2 Friday night despite both Stevens and Gaudete finding the back of the net for Northeastern.
The Terriers will come into Monday's tilt as arguably one of the hottest team in nation, as they have not tasted defeat since Jan. 6. Their unbeaten streak of nine games is the longest in the nation.
Over the last seven games, the Terriers have scored at least one power-play goal per game. BU has converted 23.5 percent of its chances with the man advantage, which is second in the Hockey East only to Northeastern, who has converted 25.2 percent of its chances.
Despite having the second most penalties minutes in the conference, BU only committed two penalties Friday night.
"Looking at our penalty minutes you'd think we're a highly penalties team," Quinn said. " … If you look at how many penalties we've had to kill per game, it's not as bad as it may look. … Penalty minutes can be deceiving, it's how many times you got to kill."
Since the Jan. 6 loss, sophomore goaltender Jake Oettinger has been solid in between the pipes. Over the course of those nine games, he has a .926 goal save percentage and a two goals against average, which includes a span of 287 consecutive minutes without allowing an even-strength goal.
However, Primeau has been equally impressive. During the same time frame he boasts .925 goal save percentage and has allowed 1.99 goals per game.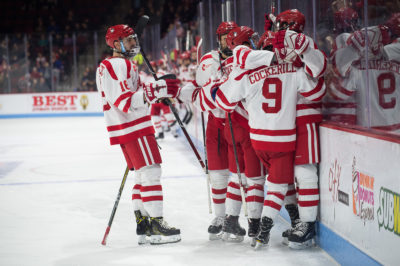 Quinn also added that freshman defenseman David Farrance will be playing forward "for now."
"He's a hockey player," Quinn said. "At this level guys [have] got to be able to adapt to different positions."
Missing from the lineup will come Monday will be sophomore forward Patrick Harper. The New Canaan, Connecticut native has not played during the hot streak due to illness.
Quinn said during Friday's post-game press conference that he is unsure about what the illness is, but there should be more clarity soon.
"We're still trying to figure out what it is. He's had a lot of tests and he feels good [and] looks good," Quinn said following Friday's game. "But they're still trying to figure out what the problem is. We should know next week at some point."
Quinn added that the Beanpot Championship is different than other games the Terriers have played this season.
"It's for a championship and we haven't had a chance to do that yet," Quinn said. "And it's a tournament, which is always nice [because] you've got to win a game to get to the finals. I think it kind of warms you up for March and April, which [are] obviously two very important months and hopefully we'll have a chance to play for more championships."