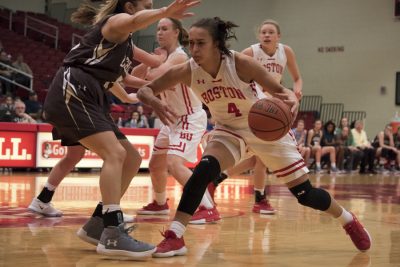 The Boston University women's basketball team has just three games left in the regular season and still has everything to play for as it tries to get the best possible seed for the upcoming Patriot League tournament.
The Terriers (10-15, 5-10 Patriot League) are currently locked in a four-way tie, occupying places six through nine in conference standings.
One of those teams tied with BU is Lafayette College, whom the Terriers will face Wednesday evening in a key game.
BU head coach Katy Steding said she knows how important this stretch up ahead is, and believes her team is ready for the challenge.
"We have our work cut out for us," Steding said. "We need to work hard and take care of business. Our destiny is in our hands, and I know that the girls are eager and really want to have a good game against Lafayette."
Because of the head-to-head tiebreaker, the Leopards (9-16, 5-10 Patriot League) are above BU in the standings.
Lafayette earned that higher place in the standings thanks to a 47-45 win over the Terriers late last month.
In a game where BU led by as many as eight, the Terriers found themselves down two with just seconds remaining. Freshman guard Katie Nelson could not add to her team-high 12 points, and missed a three pointer as time expired.
Freshman forward Natalie Kucowski had a strong game for the Leopards, with 11 points and eight rebounds.
That performance was near Kucowski's season average — a double-double, which consists of 11.6 points and 10.8 rebounds per game.
Scoring wise, senior guard Anna Ptasinski led the Leopards with 17 points. She took all her shots from behind the arc and connected five times.
Steding said she is hoping that her team's defense can stop Lafayette's one-two punch of Kucowski and Ptasinski.
"We have to really know our scouting reports," Steding said. "When we played them last time, we left Ptasinski open too many times. We did not guard her effectively. We also need to do a good job on the freshman Kucowski."
If BU is looking for a measuring stick game against a Patriot League opponent, Saturday's matchup against the United States Military Academy is a perfect opportunity.
Army (14-12, 7-8 Patriot League) is currently sitting directly above the group of teams that the Terriers are tied with.
If the ball bounces its way, BU could have the opportunity to pass the Black Knights in the standings with win Saturday afternoon at Case Gym.
Saturday is Senior day for the Terriers, and if the previous matchup against Army is any indication, this one should be tightly contested.
The last time BU played the Black Knights, it was the Terriers' first Patriot League matchup of the season and they came away victorious 60-59.
Sophomore forward Nia Irving and junior guard Payton Hauck stole the show, as Hauck put up 23 points while Irving had 22.
Irving hit the game-winning layup with 11 seconds remaining.
She also hauled down 14 rebounds, a season high for the Fairfield, Maine native. The 23 points for Hauck was also a season high.
The Black Knights are led by junior forward Madison Hovren, who averages a double-double, with 14.9 points and 10.2 rebounds per game.
With an expected jubilant atmosphere at Case Gym for Senior Day Saturday afternoon, Steding said she is excited for the seniors and is hoping her younger players can pick up on the atmosphere.
"I think they're excited that their whole family is going to be there," Steding said. "It will be a really special feeling in the gym, and hopefully we can take care of business and come out on top."